Two students use a $10,000 grant to overcome obstacles to peace in Ecuador.
By Amy Martin
Annette Davis '18 and Emma Race '18 had their summer project all planned out.
They worked with Connecticut College advisers to apply for and win a $10,000 grant through Projects for Peace, a program that encourages students to promote peace and conflict resolution around the world. They were going to use the funding to extend the hours of a day care run by a nonprofit foundation in Santa Inés, Ecuador, where Davis had previously spent a year with a host family.
But when they got to Ecuador in June, they quickly changed their plans.
It turned out that while there is a great need for afternoon and evening childcare in Ecuador (many day cares close at noon), the day care they partnered with, Burbujitas de Luz, is already open until 4 p.m. The president of the foundation had assured them that childcare from 4 p.m. to 8 p.m. would be welcomed, however upon arriving and performing an on-the-ground needs assessment, they found out that the parents of children in this particular day care were not asking for extended hours.
"Once we realized that the need we assessed from the U.S. did not in fact manifest itself in the way we thought, we knew that we had to reevaluate everything," Davis and Race wrote in their blog, AnnetteandEmma.blogspot.com.
Instead of extending the day care's hours, members of the Burbujitas de Luz FAVEDI Foundation suggested Davis and Race organize a pilot program to educate adults and middle school-aged children about specific obstacles to peace, including domestic violence, addiction, gender violence and discrimination. So Davis and Race set up a series of workshops to be taught by local experts, including a lawyer and psychologist, throughout August and September.
The interactive workshops are designed to empower the participants—parents of children attending the day care and youth identified through the foundations' connections with local schools—to be community ambassadors who can use what they learn in their own lives, as well as spread the knowledge they gain to other members of the community.
"Through this initiative, we are aiming to change social practices and beliefs that generate conflict and threaten basic human rights, such as the rights of equality and safety," said José Alarcón, vice president of the foundation. "Working with Annette and Emma has been a very interesting and fulfilling experience for all of our members. We believe it has been a two-way learning experience."
For Davis, an anthropology and Hispanic studies double major, and Race, an English major and Latin American studies minor, the experience helped them learn about culture, community and what it takes to implement social change.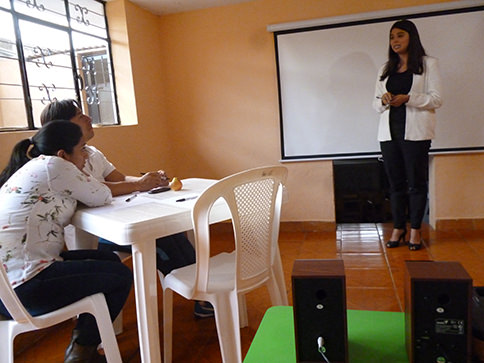 "It's been amazing to really use what I have learned in my classes at Conn," said Race. "Annette and I have been able to discuss the things we are seeing—issues of race and gender and class and how they play out here—and dive deeply into them."
Both Davis and Race are looking forward to bringing what they have learned back into the classroom. Race, a scholar in the College's Toor Cummings Center for International Studies and the Liberal Arts, is studying in Mexico this fall; Davis, a scholar in the College's Holleran Center for Community Action and Public Policy, is completing the College's Study Away Teach Away program in Cuba and Mexico.
"As an anthropology major, I can just picture myself in class referencing this experience in so many different ways. It's going to be really fascinating to have lived this and then go back and look at more theory and anthropological concepts," said Davis.
All Connecticut College students are eligible to apply for Projects for Peace grants. Previous Conn winners have empowered Native American youth, used art to promote peace among street youth in Kenya, provided healthy food options for underprivileged communities in Portland and more.
"Do something you really care about," advised Race. "We cared about the project we proposed, but we care about what we are doing now even more. It's about that mix of finding your own passions and listening and being aware of what other people need from you."