Through her business, the Second Shift, Gina Hadley '91 is putting in the long hours so other women don't have to.
By Maria P. Gonzalez
Whether working as a marketing executive in New York City, or launching her own business, Gina Hadley '91 knows it's all about the hustle.
"I think I've just always been a hustler," Hadley said, a realization she came to gradually through marriage and into motherhood.
Fiercely driven and dedicated to work, Hadley, a mother of two, inevitably faced the choice between work and home once she became a mother. Striking a balance between both, in a way that worked for her, became the foundation of her online business, the Second Shift.
Launched in 2014 with her friend and partner Jenny Galluzzo, the online business connects smart, talented women, many of them mothers with backgrounds in marketing and finance, to short-term projects with established companies. The company draws women who have often stepped away from successful careers at top firms to stay home and raise children.
They are women with experiences and talents not unlike Hadley's and Galluzzo's: well-educated, creative, career-driven mothers and wives who want to redefine the traditional work experience.
"That's what the Second Shift is all about. It's all about the hustle," Hadley said. "It's about trying to figure out alternative ways to work and still practice the craft you have spent your entire career building."
The Second Shift has a two-fold mission, which is to bring top talent to businesses looking to outsource projects, while providing skilled women employment options on terms that work for them.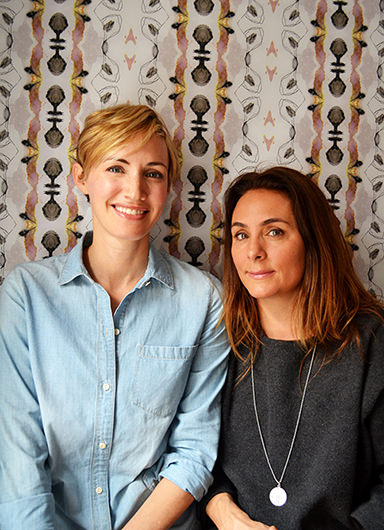 That simple mission tapped into a large community of women who yearned for work without having to sacrifice family time. The company earned early success, including a feature in The New York Times Fashion and Style section.
"If you want something done well and done quickly, give the work to a busy mom," Pilar Guzmán, editor in chief of Condé Nast Traveler, told The Times.
The idea for the Second Shift began over casual conversation.
"It started from Jenny and I talking and talking and talking," Hadley said. "One of the things that we constantly talked about was these extraordinary women that we knew who were not working, and were not practicing their craft."
They started the business small, with their own money. Hadley built the first website, and worked off simple spreadsheets.
Today, the Second Shift facilitates work connections between 700 members and 75 businesses, ranging from large firms to small business owners. They have a dedicated office and staff, and an additional list of 5,000 women looking to join.
Over the summer, Hadley was in Seattle in talks with Amazon, Microsoft and Starbucks to expand the Second Shift's network. She's putting the world together in new ways— disrupting the status quo.
"These big companies, they understand that this is a way to get the best talent," Hadley said. "We are trying to disrupt the traditional workplace. And it's not just for the sake of disrupting, it's because we have legions and legions of women who have no reason as to why they are not working. There is no reason why an employer is not engaging them."
Years before becoming a business owner and a mother, Hadley was a graduate of Connecticut College, building on her English degree to earn an MFA in Shakespearean studies at New York University.
She tried teaching, which turned out to be less her speed, and instead found her stride in advertising. At the global advertising firm Ogilvy & Mather, Hadley served as a creative coordinator for IBM. She says the experiences of being in small classes translated into success.
"I feel like at Connecticut College, I had been given the tools to be able to explain myself, to be able to articulate an idea and also be able to have a position and defend it," she said.
"Being in a small classroom setting at Conn really set me up for the collaborative work environment that I found when I went into advertising. And it helped tremendously in starting a business."
The Hadleys have lived in Manhattan since 2012 with their daughter and son, now 14 and 10. Hadley had enjoyed working with Jay Galluzzo, founder of Flywheel, during the company's expansion. She was even more impressed with his wife, Jenny Galluzzo, and they sparked an instant friendship. Becoming business partners followed soon after.
"Jenny and I always joke that now we're working 12 and 14 hours a day, so women don't ever have to again," she said.
And for these working moms, the art of the hustle boils down to a woman's right to work—on her terms.
"We want to create this ecosystem where women don't ever have to fully step away," she said.
"You can take a gig a month, or keep your contacts fresh, or do some sort of a sprinkle when you can. We want to be a tool, for businesses and for our members, that makes engaging with this demographic and continuing work for these women seamless."