The President's Distinguished Lecture Series brings notable figures to Connecticut College each year for a public presentation and informal meetings with students, faculty, and staff.
Monday, April 10, 7 p.m.
Athey Center for Performance and Research at Palmer Auditorium
Elizabeth Rush
Acclaimed environmental writer Elizabeth Rush, author of The Quickening: On Motherhood and Antarctica in the Twenty First Century and Rising: Dispatches from the New American Shore, will be the speaker at the sixth annual President's Distinguished Lecture Series at Connecticut College in April.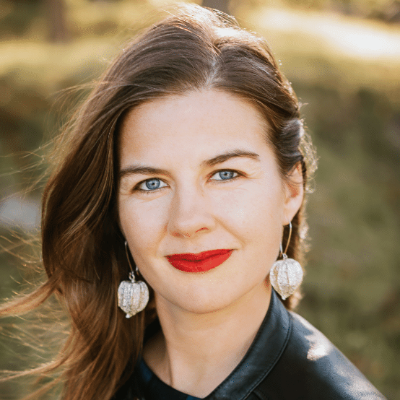 Rush spent many years reporting from coastal communities experiencing the pressure of higher tides and stronger storms. In Rising, a Pulitzer Prize finalist, she weaves together her personal experience with first-hand testimonials of those living on climate change's front lines, guiding readers through some of the places where sea level rise is a reality.
In 2019, Rush joined 57 scientists and crew onboard a research icebreaker for months in Antarctica to learn about the Thwaites Glacier, nicknamed the Doomsday Glacier because of its instability and potential to make a catastrophic impact on global sea-level rise this century. In The Quickening, Rush documents their voyage, offering sublime observations alongside the workaday moments of this groundbreaking expedition. Along the way, she takes readers on a personal journey around a more intimate question: What does it mean to bring a child into the world at this time of radical change?
Rush is the recipient of fellowships from the National Science Foundation, National Geographic, Alfred P. Sloan Foundation, Howard Foundation, Andrew Mellon Foundation and Metcalf Institute. She lives in Providence and teaches creative nonfiction at Brown University.
Monday, April 4, 2022.
Athey Center for Performance and Research at Palmer Auditorium
Rosanne Cash
The fifth annual lecture will be given by Rosanne Cash, four-time Grammy award-winning singer-songwriter and bestselling author. Her career spanning more than 40 years includes 15 albums, 11 No. 1 singles and 21 Top 40 hits. She also is a writer and activist whose publications include a collection of stories and poems,"Bodies of Water"; an autobiographical memoir, "Composed"; and numerous essays and opinion pieces that have appeared in The New York Times, Rolling Stone, the Oxford-American, The Nation and other publications.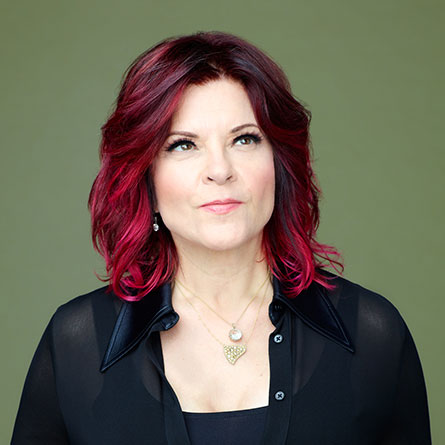 In both her music and her writings, Cash has been one of country music's most outspoken advocates for ending gun violence in the United States. She has served on the board of directors of PAX, Real Solutions to Gun Violence. On her most recent album, "She Remembers Everything," she explores the suffering that endures from a lifetime of injustices.
Cash has served as an artist-in-residence or a programming adviser at Carnegie Hall, Lincoln Center, San Francisco Jazz, the Minnesota Congress and The Library of Congress. Among her many accolades, she was awarded the Screen Actors Guild American Federation of Television and Radio Artists Lifetime Achievement award for Sound Recordings in 2012; in 2014, she received the Smithsonian Ingenuity Award in the Performing Arts; in 2015, she was inducted into the Nashville Songwriters' Hall of Fame; and in 2021, she was awarded the 61st Edward MacDowell Medal for her outstanding contributions to the field of music composition.
For the President's Distinguished Lecture, she will engage in formal and informal discussions with students, faculty and staff. The main event will begin at 7 p.m. with an on-stage interview with Cash about the many facets of her career.
Thursday, April 25, 2019
Jill Lepore
The fourth annual lecture was given by Jill Lepore, an award-winning historian and writer. Lepore is the David Woods Kemper '41 Professor of American History at Harvard University. She has been a staff writer for The New Yorker since 2005, and her essays and books on American history, politics, law, and literature hold broad appeal for the general public.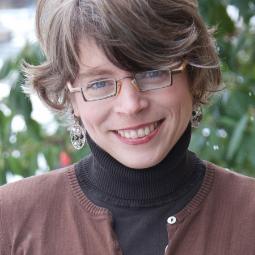 In addition to her New Yorker essays, her articles and interviews have appeared in The New York Times, Foreign Affairs, The Journal of American History, The Yale Law Journal, The Chronicle of Higher Education, National Public Radio, The Colbert Report, Smithsonian magazine, and more. She is the author or editor of 11 scholarly books and one novel. Among her most widely admired work, "The Secret History of Wonder Woman," published by Knopf in 2014, won the 2015 American History Book Prize from the New York Historical Society. "The Name of War," from 1998, won the Bancroft Prize, the Ralph Waldo Emerson Award from the Phi Beta Kappa Society, and the annual Book Prize from the Berkshire Conference of Women Historians. She was a finalist for both the Pulitzer Prize in History and the National Book Award for Nonfiction in 2006 and 2013.
For the President's Distinguished Lecture, she discussed her most recent project, "These Truths: A History of the United States," an epic study that examines the history of the American experiment—and the jagged course of democracy in the U.S.—from its infancy to our present contentious moment.
The event included a reception, lecture and a book signing.
Tuesday, March 27, 2018
David Grann '89
The third annual lecture was given by David Grann '89, award-winning journalist and author of two best-selling books, "The Lost City of Z," and "Killers of the Flower Moon," as well as a highly regarded collection of essays, "The Devil and Sherlock Holmes." His time on campus included attending a class, a public lecture and a reception with students, faculty, and staff.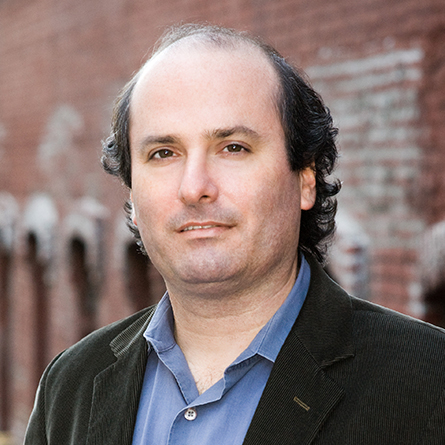 After graduating from Connecticut College, Grann took a Watson Fellowship to Mexico, which launched his career in journalism. He holds master's degrees in international relations from the Fletcher School of Law and Diplomacy at Tufts University and in creative writing from Boston University, and the connections between these studies have informed much of his creative work. Grann had been lauded for his meticulous reporting and long-form nonfiction.
A staff writer at The New Yorker since 2003, he has served as senior editor at The New Republic and executive editor of the newspaper The Hill. His work has appeared in the The New York Times Magazine, The Atlantic, The Washington Post, The Boston Globe, and The Wall Street Journal, as well as in many anthologies. In 2017, "The Lost City of Z" was released as a major motion picture, and "Killers of the Flower Moon" was chosen as a finalist for the National Book Award.
Tuesday, April 25, 2017
Eboo Patel
The second annual lecture was given by Eboo Patel, founder and president of Interfaith Youth Core. His visit included a public lecture as well as meetings, classes, and a reception with students, faculty, and staff. He was joined by Noah Silverman '04, senior director of faculty initiatives at IFYC.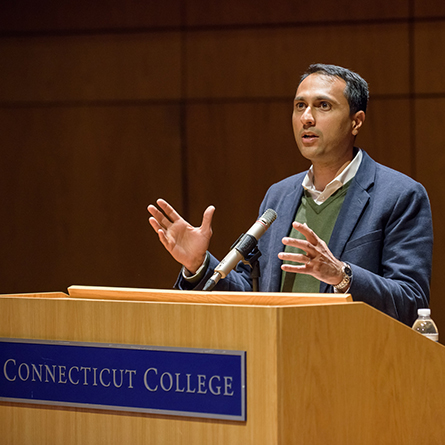 In 2009, Patel was appointed to the first Advisory Council of the White House Office of Faith-Based and Neighborhood Partnerships, whose mission is to improve the way government partners with community organizations to serve people in need. He has written and spoken extensively about the importance of interfaith cooperation in government, the social sector and on college campuses. He holds a doctorate in the sociology of religion from Oxford University, where he studied as a Rhodes Scholar. He is the author of four books, "Acts of Faith: The Story of an American Muslim, the Struggle for the Soul of a Generation;" "Sacred Ground: Pluralism, Prejudice, and the Promise of America;" "Hearing the Call Across Traditions;" and "Interfaith Leadership: A Primer." "Acts of Faith," which won the 2010 Grawemeyer Award in Religion, was featured as the College's second winter break reading. Read more about Patel's talk: Eboo Patel, founder and president of Interfaith Youth Core, visits campus.