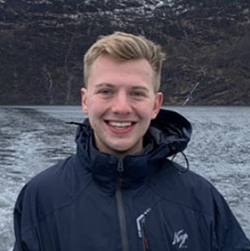 Kevin Fellows '21
The Sustainability of Global Supply Chains
An economics major and finance minor, Kevin is in the Global Capitalism Pathway, which examines the cultural, economic and social impacts of capitalism.
"I chose this Pathway because I wanted to explore the greater context of what I was learning in my economics courses," he said, adding that he has relished finding common themes in subjects he once believed were completely unrelated and tying them together in his Pathway.
"My courses in Chinese philosophy and behavioral finance are a good example of this—I took both as part of my Pathway, and they've had a surprising amount of overlap."
As a junior, Kevin travelled to Florence, Italy, to study away as part of the "global" component in the Global Capitalism Pathway.
"Living abroad undoubtedly broadened my horizons and challenged me to become a better student," Kevin said. "But it also helped emphasize the importance of being a global citizen, a concept at the core of this Pathway."
Kevin, who plans to attend graduate school after graduation, is now drawn to venture capital with a social justice component and finding a career where he can disrupt the status quo within this industry.
"My goal is to continue expanding my economic and financial analysis skills, and that, coupled with the strong interdisciplinary training I received at Conn, will help me make a tangible impact within the social venture capital arena. Ultimately, I hope to invest in environmentally and socially responsible companies," he said.