Professor of Film Studies
Chair of Department of Film Studies
Joined Connecticut College: 2011
Education
B.A., Connecticut College
M.F.A., Ohio University
Film and video production
Screenwriting
Cinematography
Editing
Directing
Film theory and practice
History of the documentary
History of experimental cinema
Ross Morin is an award-winning teacher, filmmaker, screenwriter, cinematographer, and editor. He is an Associate Professor and Chair of the Department of Film Studies where he teaches filmmaking. He is the co-founder of Kiltered Productions. He once called Tommy Wiseau's "The Room," "The Citizen Kane of Bad Movies."
Professor Morin grew up in southern Maine where he began making films when he was 13 years old. He received his BA in Film Studies and Psychology from Connecticut College in 2005 where he graduated Summa Cum Laude and Phi Beta Kappa. He received his MFA in Film and Video Production from Ohio University in 2008 where he graduated Phi Kappa Phi and won the Graduate Associate Outstanding Teacher Award. In 2018, he was awarded Connecticut College's highest teaching honor, the John S. King Memorial Award for teaching excellence and the Mellon Mays Undergraduate Fellowship Faculty Mentor Award.
Professor Morin heads the entire filmmaking curriculum at Connecticut College where he regularly teaches FLM 210: Fundamentals of Motion Picture Production, FLM 220: Documentary Theory and Production, FLM 238: Screenwriting, FLM 310: Ideological Representation in Motion Picture Production, FLM 320: Experimental Film: History and Practice, and FLM 410: Advanced Production Seminar. His courses emphasize a strong relationship between practice and theory. He believes in teaching film production as a combination of art, storytelling, and social justice activism.
Professor Morin is an independent filmmaker, editor and cinematographer. You can read more about his work on his website www.rossmorinfilm.com/films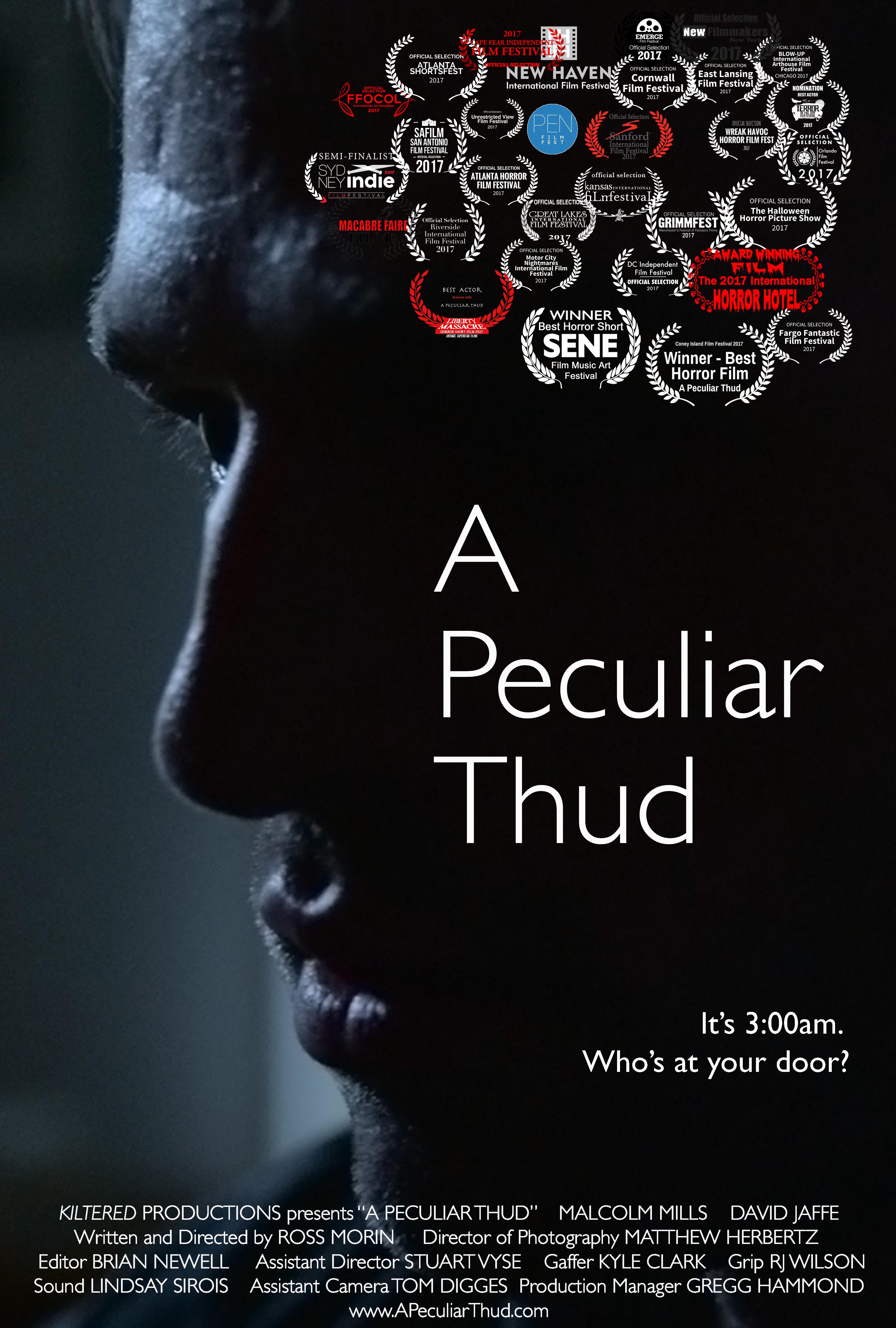 Morin's most recent short film, A Peculiar Thud (2016), won the following award and nominations:
Macabre Faire Film Festival (Nominated - Best Editing)
Sanford International Film Festival (Nominated - Best Horror)
Great Lakes International Film Festival (Nominee - Best Horror)
Coney Island Film Festival (Winner - Best Horror)
Liberty Massacre Horror Short Film Festival (Winner - Best Actor)
Atlanta Shortsfest (Nominee - Best Thriller Short)
Southeast New England Film Music and Art Fest (Winner - Best Horror Short; Winner - Audience Award - Best Regional Horror Short
International Horror Hotel Film Festival. (Honorable Mention)
Kickstarter (Project we Love)
His award-winning feature film, A Wheel Out of Kilter (2015), won the following awards:
Macabre Faire Film Festival (Winner – Best Feature Film)
Broken Knuckle Film Festival (Nominated – Freaky Feature)
Spotlight Horror Awards (Winner – Bronze Award)
Horror Hotel International Film Festival and Convention (Winner – 3rd Place, Feature Suspense/Thriller film)
Emerge Film Festival, Auburn, Maine. 2016 (Nominated – Best Maine Film)
Mountain Film Festival, Mammoth Lakes, Calif. 2016 (Winner - Sir Edmund Hillary award, Feature Film competition)
Santa Monica Independent Film Festival, Santa Monica, Calif. 2015 (Winner - Honorable Mention)
Princeton Independent Film Festival, Princeton, N.J. 2015 (Winner - Indie Spirit Award)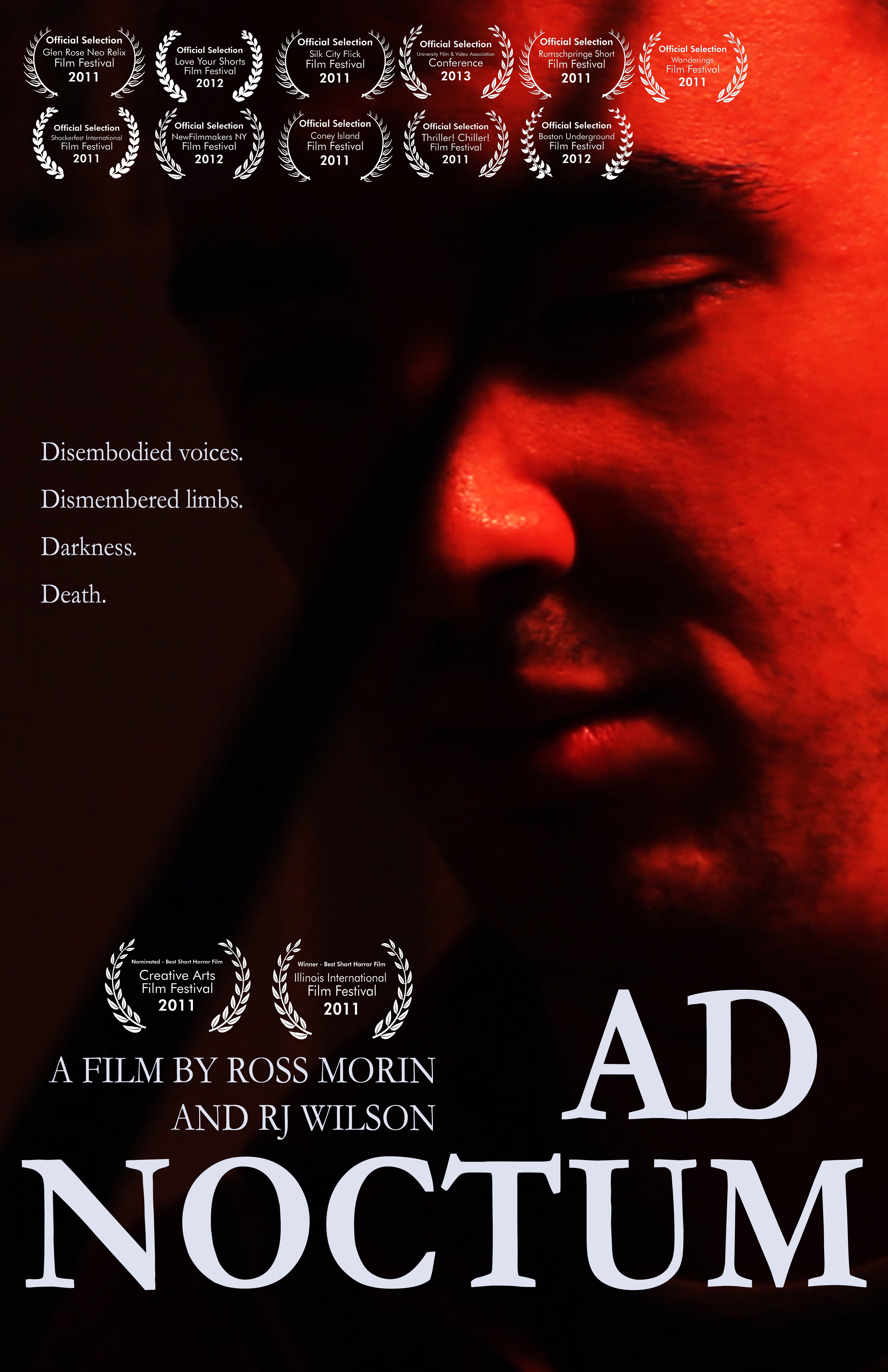 His film, Ad Noctum (2011), which he shot, and wrote and directed with horror filmmaker RJ Wilson, was selected by the following film festivals:
Severed Sinema, Stroudsburg, Pa. 2014
University Film and Video Association Conference, Orange, Calif. 2013
Love Your Shorts Film Festival, Sanford, Fla. 2012
Boston Underground Film Festival, Boston, Mass. 2012
NewFilmmakers New York, Anthology Film Archives, New York, N.Y. 2012
Glen Rose Neo Relix Film Festival, Glen Rose, Texas 2011
Coney Island Film Festival, Brooklyn, N.Y. 2011
Rumschpringe Short Film Festival, Lancaster, Pa. 2011
Shockerfest International Film Festival, KAZV-TV, Modesto, Calif. 2011
Silk City Flick Festival, Hartford, Conn. 2011
Thriller! Chiller! Film Festival, Grand Rapids, Mich. 2011
Wanderings Film Festival, Huntsville, Ala. 2011
Illinois International Film Festival, Chicago, Ill. 2011 (Winner - Best Short Horror Film)
Creative Arts Film Festival, online film festival 2011 (Nominated - Best Short Horror Film)
Professor Morin's recent editing and producing work includes Deadpoint (2016, directed by Matthew Herbertz) A Man of God (2015, directed by Matthew Herbertz), and Cigar Man (2014, directed by Evan Clar). These award-winning films have screened nationally and internationally.
As a scholar, he is interested in the representation of sexuality and gender in film and television, in particular the student film.
His most recent papers include:
Ideology on a Lunch Tray: Negative Representations of Women in the Student Film (2011)
Sexism, Misogyny and the Fear of the Feminine in Student Films (2012)
Rethinking Production Pedagogy: Bringing Theory into the Filmmaking Classroom (2014)
Trauma and Dissociation in "All This Can Happen" (2015)
Looking for Strangers: Grindr, AIDS Anxiety, and the Male Gaze in "Stranger by the Lake" (2015)
Visit the film studies website.
Mailing Address
Ross W. Morin
Connecticut College
Box # FILM STUDIES
270 Mohegan Ave.
New London, CT 06320
Office
321 Blaustein Humanities
Personal Website