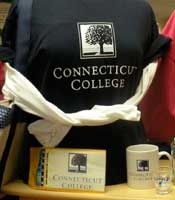 Show the world that you're proud to be a part of the Connecticut College community! At the Bookshop, you'll find emblematic Connecticut College and Camel clothing and collectibles such as sweatshirts, sweatpants, tees, caps, silk ties and jewelry.
The Bookshop has two locations: on campus, it's located in "Cro," the College Center at Crozier-Williams, and online at www.conncollshop.com.

Either place, you'll also find used and new books and textbooks, supplies, gifts and cards and computer products. Students, staff and faculty can acquire software at special academic prices.
Consider a Camel Cash Gift
Looking for the perfect gift? Camel Cash is the College's "prepaid debit account" that allows funds to be loaded onto the student's Camel Card for use at a variety of locations across campus, including The Bookshop!
Guests looking to make a deposit to a Camel Card holder's Camel Cash account can go to the guest deposit webpage. (You'll need the card holder's Camel Card ID number and last name.)