Abigail Van Slyck named dean of the faculty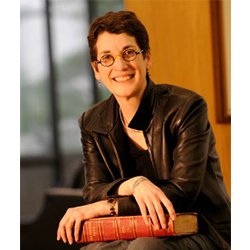 Abigail Van Slyck, interim dean of the faculty and Dayton Professor of Art History at Connecticut College, has been named the College's dean of the faculty. The highest ranking officer after the president, the dean of the faculty is responsible for providing academic leadership for the College and its faculty.
The announcement is the culmination of a comprehensive search process, overseen by the Dean of the Faculty Search Committee, which included input from faculty, staff and students.
"This inclusive process is characteristic of our campus culture, which values shared governance," said Connecticut College President Katherine Bergeron. "Dean Van Slyck is a dynamic, thoughtful leader who has a deep understanding of and appreciation for the College and its mission. I am confident her leadership will benefit both our faculty and our students at this important moment in the College's history."
As dean of the faculty, Van Slyck will provide leadership for the College's educational mission, support faculty development, and ensure the quality of the College curriculum. The dean is responsible for overseeing all academic departments and programs; stewarding the appointment, promotion and tenure of individual faculty members; identifying new chairs and program directors; reviewing the faculty compensation program; and administering the academic budget.
Van Slyck joined Connecticut College in 1999 after serving for a decade on the faculty of the University of Arizona where she was associate professor of architecture, art history and women's studies.
At Connecticut College, she has directed the architectural studies program, an interdisciplinary course of study that seeks to prepare students for further work in architectural history, architectural design, historic preservation and other related disciplines.
Van Slyck received her bachelor's degree from Smith College and her doctoral degree from the University of California, Berkeley. Her scholarship has focused on American architecture of the 19th and 20th centuries, and the social meanings of the human built environment. Her first book, "Free to All: Carnegie Libraries and American Culture, 1890-1920" (Chicago, 1995), studied the role played by the public library for America's emerging middle class. Her next, award-winning book explored the built environment of the summer camp, "A Manufactured Wilderness: Summer Camps and the Shaping of American Youth, 1890–1960" (University of Minnesota Press, 2006).
She is the recipient of the College's 2009 Nancy Batson Nisbet Rash Faculty Research Award, presented annually to a faculty member for outstanding scholarly or artistic accomplishments.
Van Slyck is a resident of Pawcatuck, Conn., where she lives with her spouse, Mitch Favreau.
---
September 24, 2014