A strong support system helped Eleni Papadopoulos '17 realize her ambition to seek a Ph.D.
Eleni Papadopoulos '17 showed her excitement for science as she described her experience studying the herpes virus over the summer.
"There is no cure, there is no vaccine, and we don't really know what it looks like," said Papadopoulos, who interned in a lab at Tufts University in Boston. "My research was to identify proteins that allow it to traffic within our bodies."
The internship was through the Leadership Alliance—a consortium of more than 30 of the nation's top research institutions. Papadopoulos was one of about 400 students—and the only student from Conn—accepted into the alliance's Summer Research Early Identification Program, which provides paid, mentored research opportunities for underrepresented students who want to pursue a Ph.D.
For Papadopoulos, the experience was invigorating. "I realized that I can be a scientist and I can do research," she said.
A biological sciences major, Papadopoulos recently shared what she's learned about the virus as part of her pathophysiology course. In the class, taught by Jean C. Tempel '65 Professor of Biology Stephen Loomis, students led discussions and made presentations on the mechanisms of disease processes.
"If we can identify certain proteins in this virus, we can figure out vaccines and cures for other viruses that look similar to it," she explained.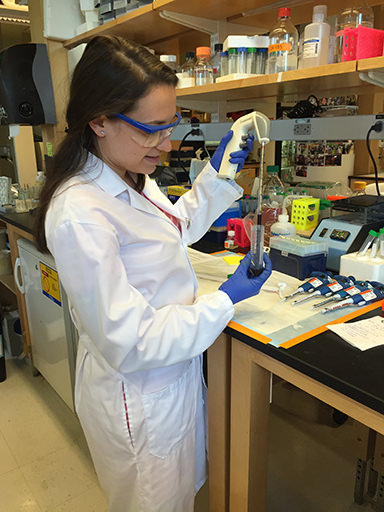 The sciences have been a calling for Papadopoulos since she arrived at Conn. Yet as a first-generation college student entering a field in which women have been traditionally underrepresented, her confidence often wavered.
"I felt like I didn't have much background. My parents didn't go to college, and I'm the only one in my family doing anything in science," said Papadopoulos, who grew up in New Jersey and whose parents are from Greece.
Working with faculty and a team of advisers, Papadopoulos tapped into Conn's network of resources for underrepresented students in the sciences. Her confidence—and opportunities—grew.
Support came from Sardha Suriyapperuma, a senior lecturer of biology and botany and Papadopoulos' academic adviser. Suriyapperuma, knowing Papadopoulos' commitment to the sciences, was the one who recommended her for the Leadership Alliance internship.
In addition to science research, Papadopoulos also nurtured her passion for health and sports medicine at Conn. A former high school volleyball player, Papadopoulos helped establish Conn's Club Volleyball, and she currently serves as the club's president. She belongs to the College's Emergency Medical Services Club, and works as a sports medicine aide/emergency medical technician for the Athletic Department.
"I love what I do there," she said about her work with athletics. "I get to see patients and watch our athletic trainers work with them and help out. We see so many scenarios."
Torn between pre-med and research, Papadopoulos got her answer during her internship. It came when her mentor had to be out of the lab for a week.
"I was doing experiments and getting results on my own, and I realized that research is so rewarding," she explained. "The fact that I did it by myself was even more rewarding."
Papadopoulos credits her years at Conn for building her confidence and guiding her toward the right path. She also credits her career adviser, Dot Wang.
"That's one of the perks of a small liberal arts school, and specifically, of Connecticut College," said Wang, the assistant director of the Office of Career and Professional Development. "We work closely with faculty to help guide students into programs that will be right for them."
As she explores post-baccalaureate programs to join the growing number of women entering science fields, Papadopoulos will also be the first in her family to graduate from college.
"Without the science department here at Conn, I would have never known to do research or fall in love with the subject matter," she said. "This past summer helped me realize that a Ph.D. is ultimately what I would like to pursue."