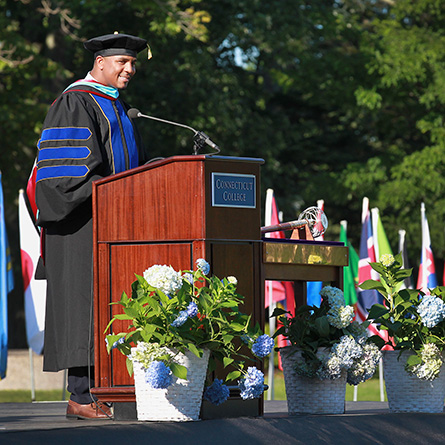 How do we acquire knowledge? How do we embody it? And ultimately, what do we do with it?
These are the questions posed by Dean of Institutional Equity and Inclusion John McKnight to the Class of 2020 and the returning students, faculty and staff who gathered Monday on Jean C. Tempel '65 Green to celebrate the College's 102nd Convocation, the annual ceremony marking the official start of the academic year.
In his keynote address, "Sky and Sea," McKnight shared what his own experience with jazz music has taught him about how knowledge is acquired, exchanged and applied.
"The thing about knowledge is that it is as vast as the sky and as deep as the sea, and every bit as difficult to fully acquire, behold, or even imagine," he said. "But in a community of learners, we try our best to take it all in and to knit it together into something beautiful, something useful."
McKnight told students that during their time at the College, they will acquire amazing amounts of information. Inevitably, he said, some of what they learn will be uncomfortable. They may be confronted with "an -ism or a phobia" they didn't know about before, or learn that some aspect of who they are runs counter to someone else's political, religious or ideological values.
When that happens, McKnight said, "The easy route would be to take what you know from a few articles you've read or great lectures you've heard and browbeat other people with it. … That's what many of our political, business, and even spiritual leaders are modeling for us.
"A much more challenging and, I think, rewarding approach for us all is to assume we don't actually know everything there is to know about most of these situations and to enter difficult conversations with an insatiable appetite for new perspectives," he said. "This is the courage, the bravery, we expect of you."
Earlier in the ceremony, President Katherine Bergeron declared the 102nd year of academic exercises at Connecticut College officially open and welcomed all the new arrivals to campus: 495 new students, 15 new faculty members and postdoctoral fellows, and 30 new staff members.
In her remarks, Bergeron told several stories about summer initiatives that have set the stage for what she called "a year of connections and reconnections." In thinking about Convocation, Bergeron said she kept coming back to two words by E. M. Forster that open his novel Howard's End: "Only Connect!"
"As we launch a new curriculum and complete a new strategic plan, both of which are motivated by the vision of a more just and equitable community, let us not forget Forster's imperative," she said. "The work of building a truly diverse and sustainable world is our collective responsibility. Let this year bring us the courage, the humility, the trust, and yes, the love to step onto those roadways that will lead us to find each other and 'only connect.'"
During the Convocation ceremony, members of the College community recited the nearly 100-year-old Honor Code Matriculation Pledge, a pledge to uphold academic excellence and high community standards in every aspect of their lives.
"This is not an empty ritual, but a statement of our connection as a community bound by integrity and trust," Bergeron said.
Prior to the start of the event, the community was treated to a performance by the student band Heironymous Mosh. Convocation concluded with the singing of the Alma Mater and was followed by a community picnic on Chapel Green.
---
August 30, 2016