Alumni law panel encourages students to be creative and open-minded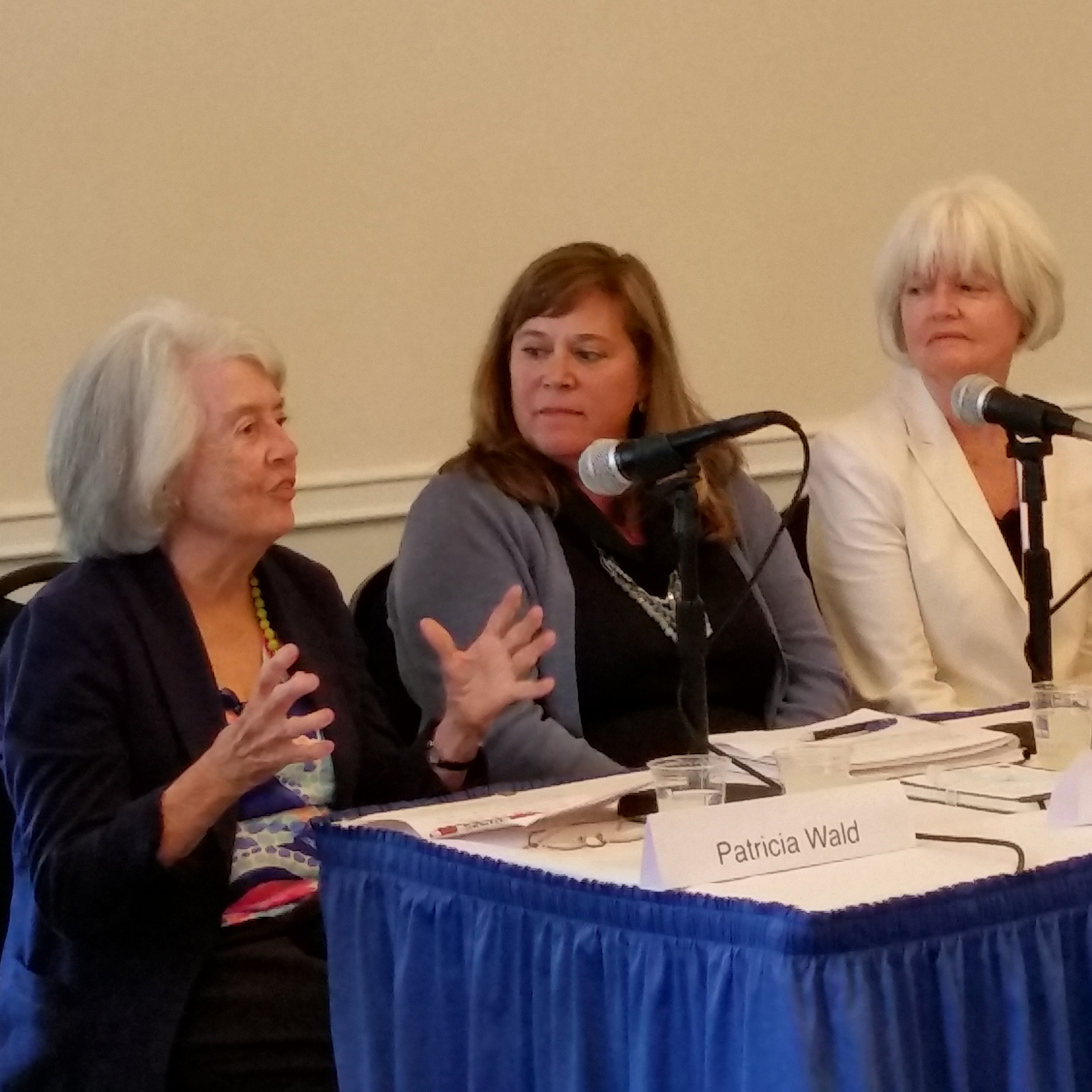 Patricia McGowan Wald '48 graduated from Connecticut College, she said, at a time when women were more likely to marry servicemen than get a job.
But she was ready for something different.
Wald earned admittance to Yale University Law School—she was one of only 10 women in her class—and went on to an illustrious legal career, eventually becoming the first woman appointed to the U.S. Circuit Court of Appeals for the District of Columbia. Her contributions to the field of law earned her the Presidential Medal of Freedom in 2013, the nation's highest civilian honor.
"When you see opportunities, go for them," Wald told students at a recent Sundays with Alumni discussion series held on campus.
Wald and other alumni in the field of law took part in the popular College program that allows current Conn students to learn about specific career fields and network with alumni.
The alumni panel also included Jay Levin '73, counsel at Suisman Shapiro Attorneys-at-Law in New London, Connecticut; Peggy Stavros Reeves '74, director of elections for the State of Connecticut; and Valerie Bataille Marshall '83, program management analyst with the federal Environmental Protection Agency.
Representing different legal fields, the panelist provided unique perspectives—but with several common themes. One main theme was to be creative and keep an open mind.
Reeves related that she didn't attend law school immediately after graduating from the College. Instead, she got involved in politics later in her career.
"You never know where life takes you, so don't hesitate to look for a different path," said Reeves, emphasizing that going to law school or becoming a lawyer isn't the only way to break into the field.
"Following the traditional route may not always get you where you want to go," added Levin. Panel members also encouraged the nearly 30 students in attendance to take advantage of opportunities and to always be networking.
Sabina Flandrick '17 is interested in a career in law but isn't sure if she wants to attend law school right away. Attending the panel discussion, she said, reassured her that taking a "different route" could still lead to a successful career in law.
"The speakers made me realize that taking time between Conn and law school is all right," said Flandrick. "Their advice was helpful and applicable to any career path."
- Ciara Healey '17
---
October 7, 2016