'Amateur Night,' written and directed by alumni couple, hits theaters Aug. 5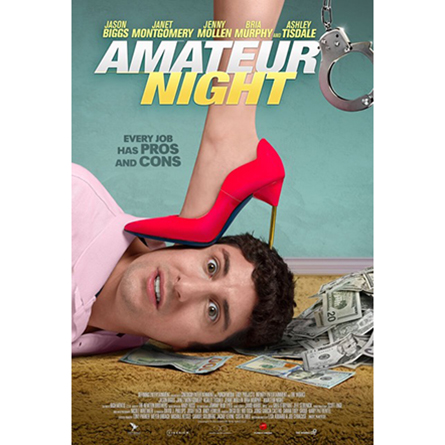 In Amateur Night, a new comedy written and directed by Lisa Addario '90 and Joe Syracuse '90, actor Jason Biggs plays an out-of-work architect who winds up supporting himself and his pregnant wife by driving sex workers to their gigs.
If the plot sounds far fetched, it's not. The film, which hits select theaters Aug. 5, is based on a true story: Syracuse became a "driver" during his early years in Hollywood, when Addario was pregnant with the couple's first child.
As they tell the story, Syracuse and Addario were researching sex workers for a script they were working on. It wasn't going well.
"We had never met a real life prostitute. We were looking for authenticity, so we would drive to Santa Monica Boulevard and try to pay them to talk to us, and I tried to get a job answering phones at a massage parlor," recalls Addario. "Everyone thought we were cops because we were this wholesome couple trying to research prostitutes."
Then Syracuse's brother introduced him to a friend who had a job driving sex workers to and from their 'gigs'. Syracuse asked if he could ride along; the friend suggested Syracuse apply for the job instead.
"The reality of the job interview was a lot like what you see in the movie; 'Meet me at KFC in 10 minutes,'" said Addario. "The guy was sitting there with 12 cell phones on the table in front of him. 'Do you have a car?' 'Yes.' 'Does it run?' 'Yes.' 'Do you have a license?' 'Yes.' 'Great. You're hired.'"
Very quickly, what began as a research project became a reliable source of income for the young screenwriters who had not yet made it in Hollywood.
"We were in our 20s; rent was tough. All Joe had to do was work one or two nights a week and we could pay our rent easily and then focus on writing," said Addario.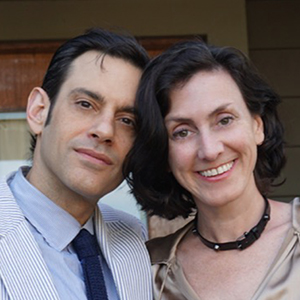 Syracuse drove for 10 months, eventually working exclusively for one woman who ran her own company that specialized in bachelor parties. Much of Amateur Night comes straight from Syracuse's real-life experiences. (Watch the official trailer.)
Syracuse, who studied history and philosophy at Connecticut College, retired from driving when the couple started selling scripts. They co-wrote the animated film Surf's Up, as well as the 2012 hit Parental Guidancestarring Billy Crystal, Bette Midler and Marisa Tomei, and their phone hasn't stopped ringing since. They hadn't put much thought into writing about Syracuse's experience—until famed Hollywood director Tom Hooper came to their house for dinner one night.
"Tom had just won the Oscar for 'The King's Speech,' and he brought it over to show the kids—and me, because I really wanted to see it," Syracuse remembers. "We were whining about not being able to get one of our indie movies made when another dinner guest chimed in, 'Tell Tom your stories about when you used to drive strippers around!' We started telling him and we were all laughing and in the middle of it he stops us and says, 'Why aren't you making that movie first?'"
Syracuse wanted to give it a try—Hooper obviously knew what he was talking about—but Addario remained unconvinced. Syracuse began writing the script himself in an effort to win over his wife. Soon, she began to see that the true heart of the story was the relationship between Guy Carter and his wife, and the uncertainty that accompanies impending parenthood.
‌While they hadn't initially considered Biggs for the lead role of Guy Carter, Addario and Syracuse agreed to talk with him—via Skype—after Biggs read the script and loved it.
"He channeled Joe 100 percent," remembers Addario, who studied sociology and Italian at the College. "He said, 'I feel like you guys wrote this for me.' He was so passionate about it, and saw exactly what we were going for. We were like, 'Wow. He's definitely our guy.'"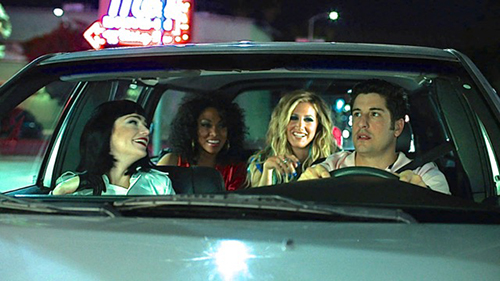 Addario and Syracuse were also impressed by the relationship between Biggs and his wife, actress and writer Jenny Mollen, so they cast her in the role of Anne Carter. The film also stars Janet Montgomery (Black Swan, Salem), Ashley Tisdale (High School Musical), and Bria Murphy (daughter of Eddie Murphy, in her film debut).
As Amateur Night hits theaters, Syracuse and Addario are already wrapped up in other projects. They are working on several scripts and have another movie currently in production, Coup D'etat, a comedy starring Michael Caine and Katie Holmes about a teenage girl who becomes pen pals with an island nation dictator. They've come along way since Syracuse's driving days, but the couple admits that movie making can be just as crazy.
"It's certainly not for the faint of heart," Syracuse said.
---
July 25, 2016