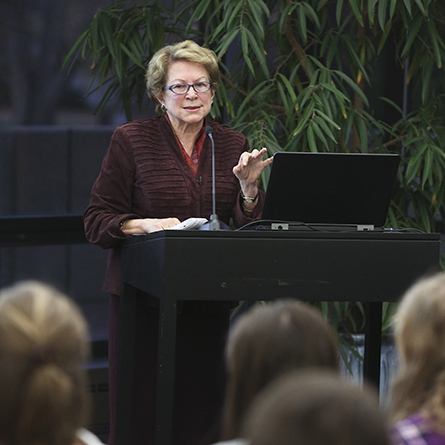 In her third visit to campus during her impressive career, intellectual historian and higher education innovator Carol Geary Schneider praised Connecticut College's new Connections program as a model for 21st century liberal learning.
"I'm delighted to see the extraordinary work going on here," Schneider, Lumina Foundation fellow and president emerita of the Association of American Colleges & Universities, told faculty, staff and students at a lecture Nov. 17 in Shain Library.
"You have positioned yourselves, boldly and bravely through the Pathways initiative and Connections program, to build … a public-spirited and highly engaged liberal education where integrative, inquiry-based learning of many different kinds is enabling students to go into the hard questions that we are facing in our society."
Ratified by the faculty in 2015, Connections encourages students to ask personal and meaningful questions and explore answers by integrating courses from multiple disciplines, engaging in off-campus learning and sharing what they have learned with the larger community. The program culminates in an integrative presentation, project or performance that focuses on an animating question of interest to the student.
In her talk, "Integrative Liberal Learning: Preparing Students to Create Solutions for the Future," Schneider discussed how liberal education—a term she described as more encompassing than liberal arts education—has long been in a period of change. Over time, as students have begun to pursue two and three majors, the curriculum has transformed. Once focused merely on a broad knowledge base and a concentration in a single discipline, it now engages students more deeply in cross-disciplinary, problem-centered inquiry.
This focus on multi-perspective problem solving and culminating projects allows students to work with faculty from across campus on issues of importance in today's world, and prepares them to join an ever-evolving workforce, Schneider said.
"Connections positions Connecticut College at the head of a train that is already moving," Schneider said.
In her introductory remarks, President Katherine Bergeron called Schneider "one of the foremost authorities on liberal education in the United States." Under her leadership, AAC&U launched Liberal Education and America's Promise (LEAP), a public advocacy and campus action initiative designed to engage students and the public with what really matters in a college education for the 21st century.
---
November 18, 2016