CCSRE's 10th anniversary kicks off with debate on capitalism, artist talk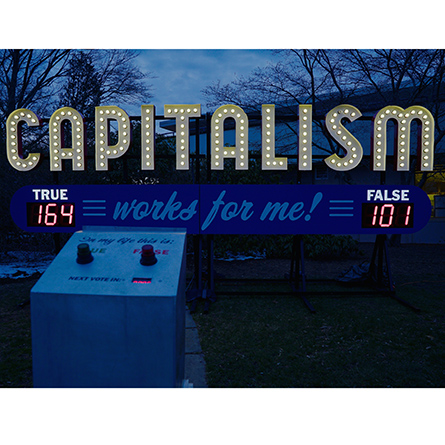 Does capitalism work? Who does it work for? Does it have to not work for some in order for it to work for others?
These are some of the questions addressed in the first of a series of events commemorating the 10th anniversary of Connecticut College's Center for the Comparative Study of Race and Ethnicity, one of five centers for interdisciplinary scholarship that serves as a hub for researching and teaching race and ethnicity across disciplines.
Continuing CCSRE's year-long theme of "capital," the first day of the three-day celebration featured a faculty debate on inequality, capitalism and racial justice, and an artist talk by Steve Lambert, founder of the Center for Artistic Activism and creator of the public art piece "Capitalism Works For Me!"
At the April 26 debate, Edward Stringham, the Davis Professor of Economic Organizations and Innovation at Trinity College, argued that free markets and entrepreneurship reduce poverty and provide more people access to goods and services, but that government regulation corrupts the free market and impedes equal access to opportunity and wealth.
Connecticut College Professor of Economics Edward McKenna countered many of Stringham's points, arguing that the government is merely a reflection of existing power structures and that even well-functioning capitalist systems lead to extraordinary levels of inequality. Also speaking on the panel was Associate Professor of English Courtney Baker, who made connections between capitalism, racism and history.
"I am always interested in seeing how people approach debates about capitalism. There is usually a mix of emotional reactions and rational arguments and it is interesting to see how these two interact," said Vladimir Chlouba '16. "I heard opinions I disagreed with and I heard views I that are closer to mine. Most importantly, I heard views and questions that made me think."
The debate added new dimensions to ongoing campus conversations about capitalism, spurred in large part by Lambert's "Capitalism Works For Me!" art piece, which has been on display in front of the College's student center since March 28.
Created to look like an old-fashioned scoreboard (with flashing lights), the artwork invites viewers to contemplate their own relationship with capitalism and then vote "true" or "false" to the statement "Works for me!" Since 2011, the piece has been shown in New York City's Times Square, London and Boston.
"Once you see it up there, literally in lights, people suddenly start having conversations," Sandy Grande, professor of education and director of the CCSRE, told The Day. "As soon as we put it up, we would hear students walk by, and they were like, 'What does that mean?' 'I don't know, what do you think it means?' They'd go, 'Absolutely true.' And 'No, it doesn't (work for me).'"
At the artist talk, Lambert told the crowd of students, faculty and alumni that he designed the piece to look like a game in order to "reach regular people in a regular way."
"I like challenging people to be open to new ideas," he said. "Look at any of the great artists and they did great things because they expanded the cultural viewpoint at that time."
Art, he said, helps expand people's ideas of what is possible.
"Culture is an expression and a reflection of power; it narrows ideas of what is possible in the world. Art is different—art doesn't have an ulterior motive."
The CCSRE 10th anniversary events continued April 27 with a campus-wide lunch that fostered critical conversations about issues of inequality, race and justice; a student-led teach-in that examined the nexus between pop culture and stereotypes; and a dinner and discussion with trustees and alumni of color on the past, present and future of race relations at the College.
The celebration culminated on April 28 with the return of Cornel West, who served as the keynote speaker at the inauguration of the CCSRE 10 years ago. West, who spoke in Palmer Auditorium to a crowd of more than 900 people, is professor of philosophy and Christian practice at Union Theological Seminary and professor emeritus at Princeton University.
West is the author of 20 books, including "Race Matters," "Democracy Matters" and his memoir, "Brother West: Living and Loving Out Loud."
- Amy Levenson '16 contributed to this story.

---
April 29, 2016