College awarded $800,000 from The Endeavor Foundation for Connections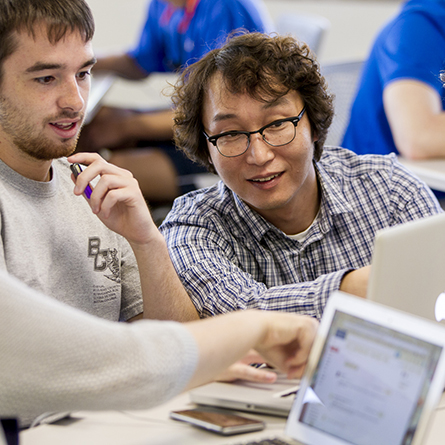 Connecticut College has been awarded an $800,000 grant from The Endeavor Foundation to implement Connections, an innovative new general education curriculum that teaches students to look at problems from multiple angles and develops them into adaptive, creative thinkers.
"We are so enthusiastic about this new curricular approach which will no doubt excite the engagement of each and every student and inspire them to be more purposeful and focused on the potential significance and coherence of their four years at Connecticut College," said Julie Kidd, President of The Endeavor Foundation.
Ratified by the faculty in May of 2015, Connections tailors students' academic experiences around a problem they want to solve and teaches them to build stronger connections among the many aspects of their college experience: the languages they are learning; the disciplines they are studying; the communities they are inhabiting; their work in class and in the world; and ultimately, their lives in college and their lives after college. With a focus on real-world learning, Connections promotes the full participation of every student—whatever their identity or background—so that, in the course of their journey, all reach their highest potential and contribute to the success of others.
"The world we inhabit today calls for a different kind of citizen, one with more curiosity, more creativity, more perspective, more tolerance, more empathy, and, ultimately, more courage to address the complex issues that divide us on a national and global scale," said President Katherine Bergeron. "This generous grant from The Endeavor Foundation will support our mission to educate global citizens who are prepared to 'put the liberal arts into action' throughout their personal and professional lives."
Connections, which will be fully implemented beginning this fall with the Class of 2020, will begin in the first year with a strengthened first-year seminar experience supported by a team of advisers. As sophomores, students will identify a question of interest to them and choose a "pathway," a set of interdisciplinary courses and other experiences curated around a central theme, such as public health, entrepreneurship or sustainability, that will allow them to explore their question over the next three years. The junior year expands the reach of the pathway through internships and other work in the community and across the globe, and the senior year draws it all together in an integrative project.
"Through the integrative design, Connecticut College graduates learn to become adaptive leaders in an era of change," said Dean of the College Jefferson Singer.
This highly integrative education requires a new and more intensive form of academic advising that ensures equal access to educational opportunities and mentors students to integrate community engagement, study away, language study and internships into their academic programs.
"In order to undertake this form of intensive advising, faculty and staff must receive training to better understand the value and outcomes of off-campus learning, and to gain deeper knowledge of the various educational programs, study abroad options, and institutional support structures available to students," said Amy Dooling, professor of Chinese, associate dean of global initiatives and director of the Global Commons. "This support from The Endeavor Foundation will make it possible for Connecticut College to take the much needed step of developing a comprehensive advising program that will ensure the success of the College's new curriculum."
In addition to supporting two yearlong advising seminars, including one focused specifically on learning abroad, The Endeavor Foundation grant will support the development of six initial pathways and the development of long-term partnerships with universities and colleges abroad to promote ethical global engagement.
---
July 12, 2016