Connecticut College and The Day newspaper welcomed community members to Palmer Auditorium to watch a debate between candidates for U.S. Congress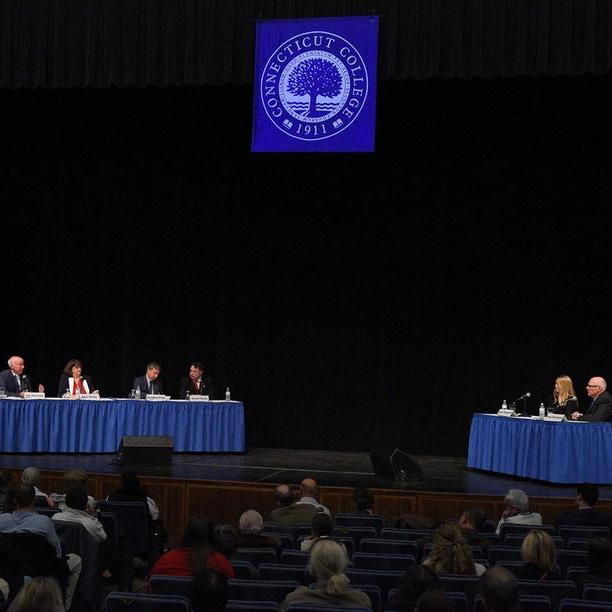 Nearly 200 people filled Palmer Auditorium Tuesday night to watch a debate between the four candidates running for Connecticut's 2nd Congressional District.
The candidates challenging Democratic U.S. Rep. Joe Courtney for the seat he has held for 10 years are: Republican Daria Novak; Green Party candidate Jonathan Pelto; and Libertarian Daniel Reale.
Connecticut College and The Day newspaper partnered to host the debate on campus, providing a forum within New London that made the event accessible to both the campus and local communities. Students from Connecticut College, the U.S. Coast Guard Academy and the region's high schools attended.
"As a college whose mission it is to educate our students to be active citizens in the global society, it seems very fitting that we host this debate," said Abigail Van Slyck, dean of the faculty. "What a wonderful opportunity for our students to witness democracy in action."
The Day's editorial page editor Paul Choiniere and military reporter Julia Bergman served as moderators, incorporating non-partisan policy questions posed by U.S. Coast Guard Academy cadets and Connecticut College students.
The political forum provided the political science and government students with an opportunity to observe the political process in real time. During the 90-minute debate, the candidates addressed topics ranging from climate change and energy dependence to defense spending and health coverage.

"This was an opportunity for our students to observe in live format a political debate between congressional candidates," said MaryAnne Borrelli, professor of government. "To have it in live format, rather than to merely view it on a TV, provided an added element of experiential learning."
Julio Herrera '20 attended the debate, and said he was interested in how the outcome of the congressional election would impact daily life in his home state. While election discourse is often driven by the presidential race, local elections have just as great an impact, he said.
"I really believe that elections like these matter. If we expect change we need it from the bottom up, not the top down."
---
October 28, 2016