College hosts Pathways to Peace discussion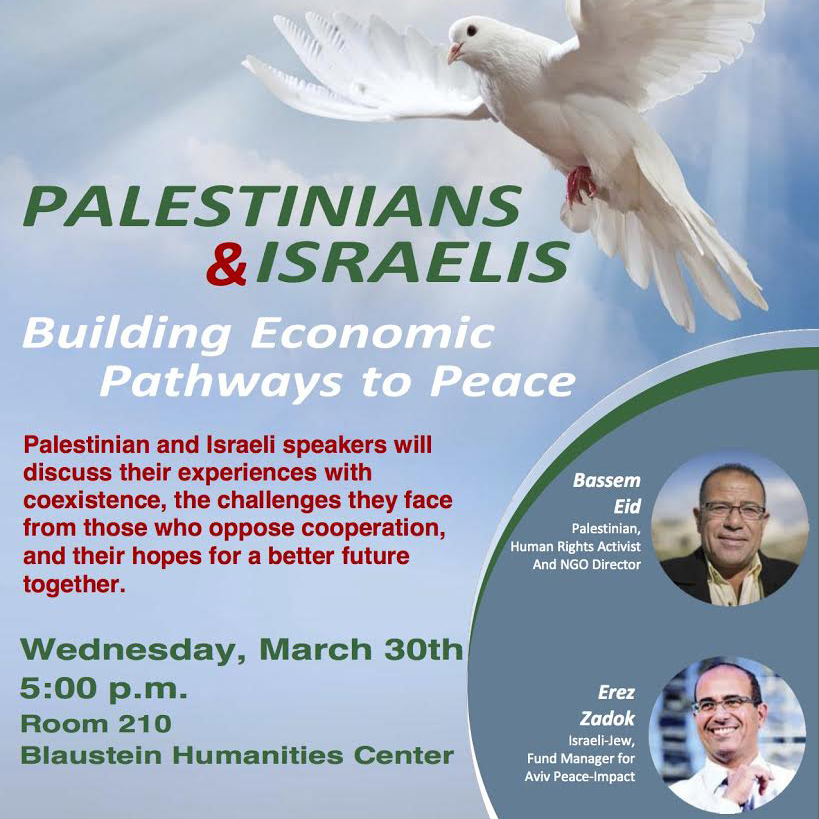 Connecticut College Hillel and Zachs Hillel House hosted "Palestinians and Israelis: Building Economic Pathways to Peace" on March 30. The discussion featured Bassem Eid, a Palestinian human rights activist, and Erez Zadok, a Jewish-Israeli fund manager for Aviv Peace-Impact.
Together, the two discussed the current economic state of Palestine and the role of coexistence and its progression within the realm of the Israeli capitalist economy.

Zadok believes that the Palestinians and the Israelis who work side-by-side at manufacturing jobs in the West Bank are building relationships and learning to live in peace. He encouraged support of the manufacturing industry in the West Bank, saying, "I prefer to buy products made in the West Bank, because I am supporting coexistence and peace. No matter your political views, factories can move all over the world; until we have an agreement, we need to take advantage of the economy to make peace between people."
Eid echoed this sentiment, pointing out that ordinary Palestinians are focused on three things: a job, education and health care for their children. Eid opposes the BDS movement, a campaign by supporters of Palestine who live outside Palestinian civil society, to boycott, divest from and sanction the State of Israel.
"What is the Palestinian economy? The only source of income is inside of Israel. How do we boycott Israel without an alternative..."
Simon Luxemburg '18, Daniel Kramer '18 and Connor Wolfe '17 invited Eid and Zadok to speak on campus after winning a grant from the first Campus Pitch Competition, a joint initiative of the World Jewish Congress and the Consulate General of Israel in New York. Luxemburg was excited by the turnout.
"It was amazing to see so many interested students, faculty, staff and community members gather together to hear from two speakers who are accomplishing meaningful things in the region," Luxemburg said.
"It is rare that we are able to bring individuals to campus who not only live the conflict in their daily lives, but work towards making positive sustainable change."
Reflecting upon the event, Rabbi Susan Schein, director of Zachs Hillel House and College Chaplain, said: "For Mr. Eid, Mr. Zadok and others whose lives are impacted by the Israeli-Palestinian conflict on a daily basis, the economy is fundamental to establishing a pathway to peace. We can learn from the example of these men by remaining open to fresh ways of thinking and resisting the temptations of polarization. It is my hope that we, as members of an educational institution, seek out our own pathways to peace through civil discourse, open dialogue and mutual understanding."
- Kelsey Handelman '18
---
April 8, 2016