Conn kicks off Latino Heritage Month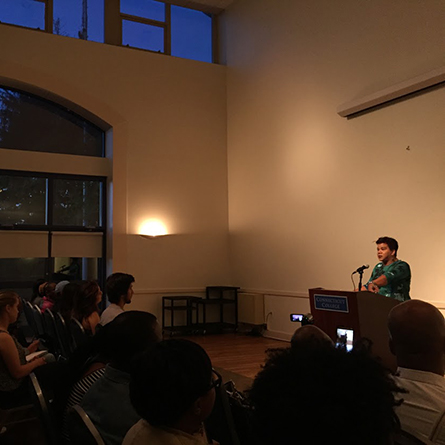 Connecticut College will commemorate Latino Heritage Month through a series of events based on this year's theme of "Race and Intergenerational Politics in the Latino Diaspora."
Celebrated nationally from Sept. 15 through Oct. 15 by presidential proclamation, Hispanic Heritage Month seeks to bring clarity to the misconceptions surrounding the lives of Latino Americans, and to develop a richer understanding of the Latino/a experience while celebrating the community's diverse cultural contributions.
Events at Conn kicked off Thursday with a keynote by Rosa Clemente, a hip-hop scholar-activist, community organizer, journalist and public speaker. Clemente made history in 2008 as the Green Party vice-presidential pick for Cynthia McKinney, representing the first all-women-of-color presidential ticket.
In her talk, Clemente sought to empower the campus community to defy narrow boundaries and look beyond what is typically cast or portrayed as representative of a group.
"We get caught up in representation," she said. "Representation does not change the reality of black and brown people."
Clemente, a doctoral candidate in the W.E.B. Du Bois Department of Afro-American Studies at the University of Massachusetts, Amherst, also reminded the audience not to shy from either engagement or criticism.
"Your first job begins here," she said. "Get engaged, question everything…. The struggle is beautiful. I invite everyone to be part of it."
Clemente's address set the tone for a month-long series of on-campus events meant to bring a deeper understanding and appreciation for the Latino experience during a time of increasing disenfranchisement and marginalization, said B. Afeni McNeely Cobham, associate dean of institutional equity and inclusion.
"Rosa Clemente offers a poignant critique of the socio-political language and behaviors that often disenfranchise marginalized communities," McNeely Cobham said. "Her grassroots activism and scholarship are essential to unpacking complex issues in the Latino/a community influenced by race, class, gender and intergenerational engagement."
Upcoming events include panel discussions on exploring what it means to identify as "Latinx," and mobilizing the vote among Latinos. A full schedule of events, including specific speakers, times and dates, is available through the Division of Institutional Equity and Inclusion's Facebook page.
Latino Heritage Month events at Conn are sponsored by the College's Division of Institutional Equity and Inclusion, Community Partnerships, Hispanic Studies Department, LGBTQIA Center, Office of Student Engagement and Unity House.
---
September 16, 2016