Cornel West challenges students to 'maintain your integrity'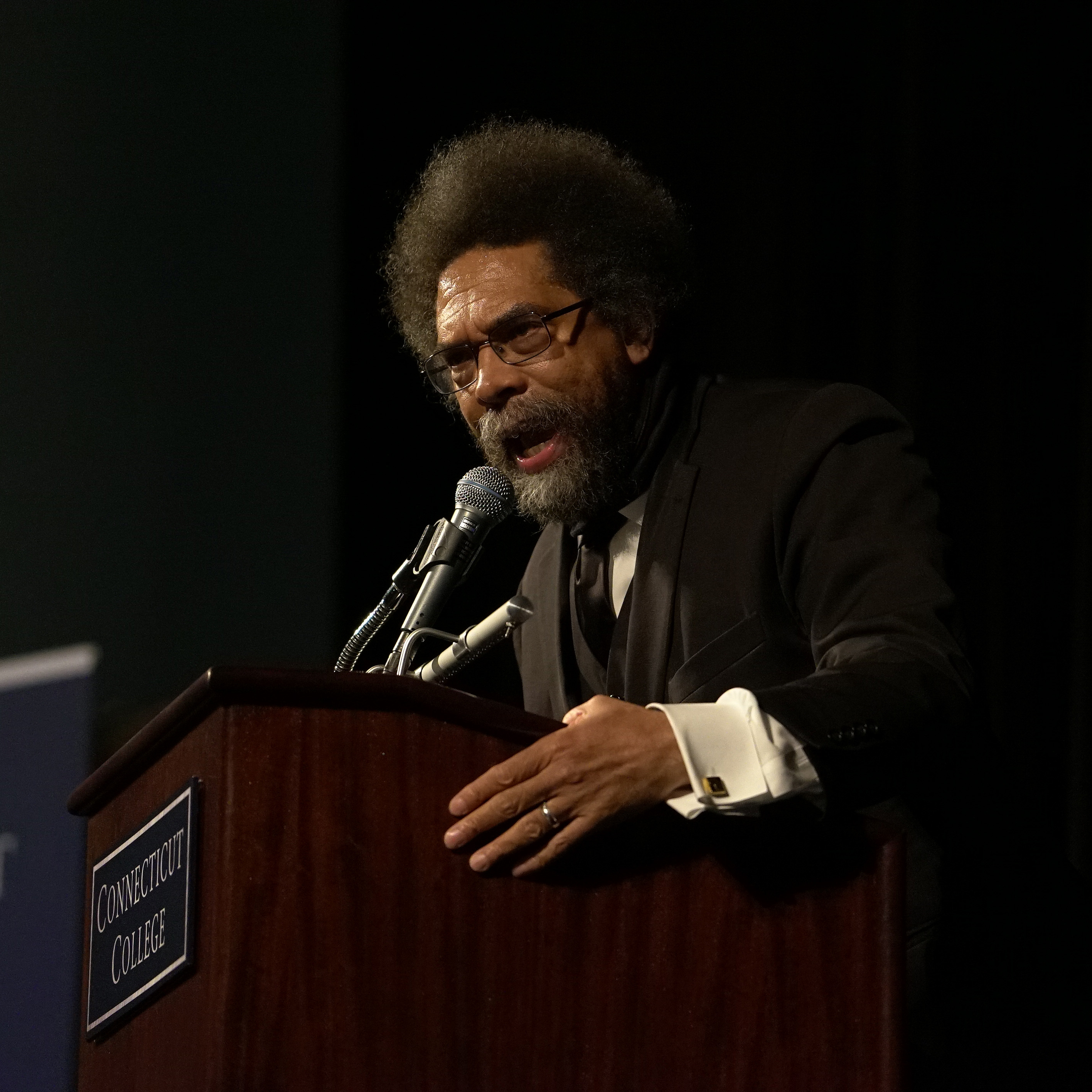 In a wide-ranging discussion that wrestled with issues of race, class and poverty, Cornel West leveled a challenge to the hundreds of Connecticut College students in Palmer Auditorium: "Can you maintain your integrity as you move on from this institution?"
"You will be challenged every day by cupidity and venality… We're all fallible. We all have blind spots. That's why we need each other."
West was on campus as part of a series of events celebrating the 10th anniversary of Connecticut College's Center for the Comparative Study of Race and Ethnicity, one of the College's five centers for interdisciplinary scholarship. The three-day celebration included a faculty debate; a talk with artist Steve Lambert; a student-led teach-in; and a dinner and discussion with trustees and alumni of color.
The event took place almost exactly 10 years to the day West delivered the keynote address at the Center's inaugural event. On that day, West's talk, "Democracy Matters," mirrored the title of his 2004 book. This year's discussion was titled "Justice Matters," a name more reflective of West's entire breadth of work.
West, a professor of philosophy and Christian practice at Union Theological Seminary, channeled the teachings of civil rights activist W.E.B. Du Bois to frame his address. He posed four questions, first raised in Du Bois' "The Ordeal of Mansart": How shall integrity face oppression? What shall honesty do in the face of deception? What does decency do in the face of insult? How does virtue meet brute force?
"These are questions for each and every one of us. There is no escape from these questions," said West. He opined that to overcome injustice, it would take all people "standing in solidarity" with those who are "terrorized," regardless of race, ethnicity, gender or religion.
But standing up against injustice isn't easy, as has been proven by history. It takes sacrifice.
"Anyone who wants to stand up better be ready to die. Will one have the fortitude to fight, even with the threat of death?" West said.
To that end, he praised the liberal arts education of institutions like Connecticut College, as they challenge students to "battle the dogmas and the ideologies that will blind you."
Prior to West's address, the CCSRE recognized current and former College staff and faculty, students, and community leaders who have contributed to the Center over the past decade, including the four directors—David Kim, David Canton, Leo Garofalo and current director Sandy Grande.
---
May 3, 2016