Education and democracy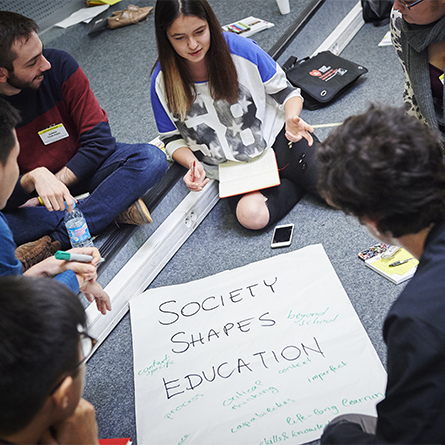 Lera Shynkarova '20 was one of just 75 youth representatives selected from around the world to attend the 2016 World Forum for Democracy in Strasbourg, France, in November.
Now, the first-year student from Belarus is applying the concepts and ideas from the forum to what she is learning in her Conn classrooms—and eventually beyond.
The forum, founded in 2012 by the Council of Europe, brings politicians, education leaders and activists together to identify and analyze challenges to democracies worldwide. Each year's forum focuses on a new theme. This year, the event addressed the relationship between education and democracy and served as a stage for the youth representatives to share their ideas.
"I think it was important for the adult representatives to see how younger people react to and participate in different issues," Shynkarova said.
She hopes to change the way education works in her home country, she said, noting that the education format in Belarus has a hierarchical approach, where professors lecture, students take notes, and there are few opportunities for questions and classroom discussions.
Part of the reason Shynkarova came to Connecticut College was because of the personal attention each student receives, along with the focus on promoting individuality in each student and the close relationships between students and faculty.
She is applying what she learned at the forum, to what she's learning in the classroom and what matters to her personally. For example, when learning about economic and social structures in class, she tries to imagine how it may discourage or encourage democratic participation, citizenship and human rights.
She is also working with Community Partnerships on a new project that would increase outreach between College students and the New London community—an initiative that would be discouraged in her home country.
"Attending the forum taught me how to process and implement information," she said, "and reflect on [the ways education can enhance democracy]."
- Ciara Healey '17
---
December 19, 2016