Election 2016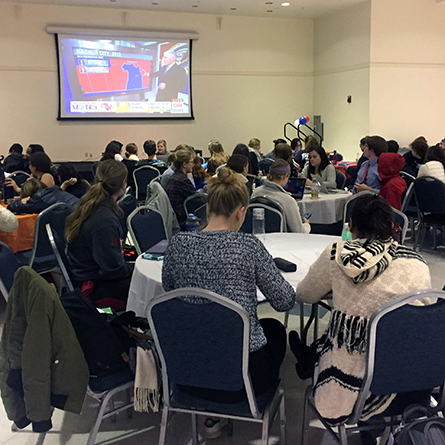 Students, faculty and staff gathered several times this week to discuss the implications of the 2016 Presidential Election.
"In the coming days and weeks, it is critical that we give our friends, classmates, professors and other people we care about the time and space to reflect upon this election in whatever ways they wish," said Dean of Institutional Equity and Inclusion John McKnight, who, with Dean of Students Victor Arcelus and Dean of the College Jefferson Singer, organized two open forums as part of a series of events related to the election.
"Our goal as a campus community is to provide ongoing support in big and small ways to those who feel uncertain or concerned about the days ahead."
During one open discussion, students described being shocked by the results. Some said the rhetoric of the campaign left them feeling deeply hurt and even fearful for themselves and their families. Others encouraged their fellow students to be mindful of the range of emotions the election has elicited.
In an email to the campus community Wednesday, President Katherine Bergeron acknowledged that the conclusion of the campaign has evoked strong emotions for many.
"Through these many months of derisive and divisive politics, there's one thing I have become increasingly grateful for: and that is the spirit of collaboration, and the values of equity and justice, that bind this community together. That is what makes this College great," Bergeron wrote.
The post-election gatherings were some of the more than two dozen election-related events organized this fall to help students engage with the political process. Other events included a talk by award-winning author Moustafa Bayoumi about Muslim-American life in the age of Donald Trump; a lecture about the importance of vice-presidential candidates by Christopher Devine '06, assistant professor of political science at the University of Dayton and author of The VP Advantage; and a roundtable discussion featuring faculty from the economics department about the possible economic implications of the election.
The College partnered with The Day newspaper to host a debate between the four candidates running for Connecticut's 2nd Congressional District. During the 90-minute debate, the candidates addressed topics ranging from climate change and energy dependence to defense spending and health coverage.
Students also discussed the election in dining halls and residence houses, and studied related topics in class.
Saadya Chevan '19 wrote in a blog post prior to the election that his "Confucian Traditions" class discussed how Confucius' writings on morality applied to the behavior of the 2016 presidential candidates.
"This election has given us new, interesting, different and difficult things to talk about in every aspect of our lives here," Chevan wrote.
The conversation will continue this evening with an event for faculty and staff sponsored by the Center for the Comparative Study of Race and Ethnicity.
---
November 11, 2016