Eugene O'Neill Theater Center wins nation's highest honor for achievement in the arts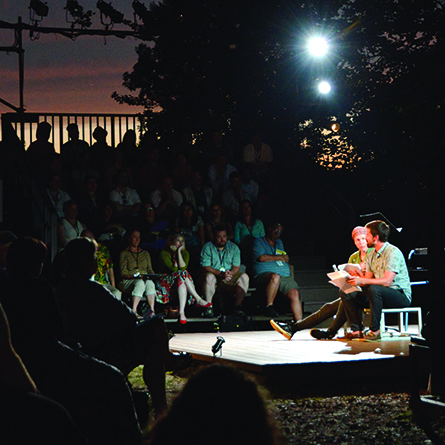 Just a few miles from the Connecticut College campus is the Eugene O'Neill Theater Center, where Broadway plays are born and movie stars are made.
If it was a best kept secret, it's not anymore: The White House has announced that President Barack Obama will award the National Medal of Arts to the O'Neill, one of the College's closest community partners, on Sept. 22.
The National Medal of Arts is the highest award given to artists and arts patrons by the federal government. The O'Neill is being recognized for its unwavering support of American theater for more than 50 years.
"The Eugene O'Neill Theater Center has been at the center of the American theater for decades. Industry professionals, and generations of students, know the O'Neill as the primary incubator for new artists, new voices and new works for the American theater," said Professor of Theater David Jaffe '77, who serves as a trustee of the O'Neill. "This award means that what those of us in the field already know will be known to the general public."
Major works—including Avenue Q, In The Heights, House of Blue Leaves, Fences, Nine, The Piano Lesson, and Violet—were first developed at the O'Neill before finding success on Broadway, film and around the world. The O'Neill also launched the careers of August Wilson, Lin-Manuel Miranda, Wendy Wasserstein, John Patrick Shanley, Michael Douglas, Meryl Streep, John Krasinski, Jennifer Garner, Rachel Dratch, Elizabeth Olsen and more.
"When the call came, I was speechless," said Preston Whiteway, executive director of the Eugene O'Neill Theater Center, who will accept the award at the White House along with the O'Neill's founders. "This institution has such an incredible and vast impact on American culture, and this award salutes all of us—our founders, the staff and the artists and students creating new work here."
Named in honor of America's only Nobel Prize-winning playwright, the O'Neill was established in Waterford, Connecticut, in 1964. The College's partnership with the O'Neill dates back to 1970, when Conn became the college of record for the O'Neill's National Theater Institute. There are now six NTI programs, through which students earn Connecticut College credit for intensive training programs in acting, directing, playwriting and more.
In addition, the College has internship arrangements with the O'Neill for summer and academic year placements for students in its literary, administrative and artistic offices, as well as technical positions during the summer. Connecticut College's Theater Department also partners regularly with the O'Neill for guest artist exchanges, master artist demonstrations and more.
"The O'Neill would not be where we are today without Connecticut College's partnership with our National Theater Institute," said Whiteway. "That enduring bond between our organizations has allowed us to soar, and thousands of students to launch professional and successful careers in the arts."
Director of Arts Programming Robert Richter '82, who is also an O'Neill scholar, said the National Medal of Arts is a well-deserved honor for what he called a "huge institution in American theater."
"They are promoting new and adventurous work, which is what O'Neill did," he said. "They are doing an incredible job of continuing that legacy."
---
September 19, 2016