Christopher Krupenye '11 makes a name for himself in the field of animal cognition.
I
magine your roommate is looking in the refrigerator for leftover pizza—the leftover pizza you ate for lunch. She moves the milk. Opens the drawers. Tosses an expired container of yogurt in the trash. You realize what is happening: She falsely believes the pizza is still there. To set the record straight, you admit you ate it.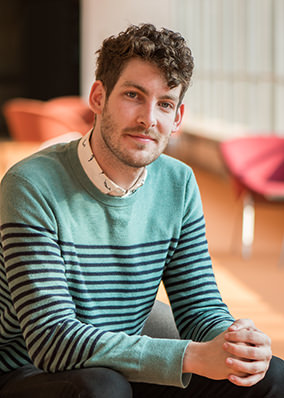 In this scenario, you are demonstrating your ability to understand a "false belief." You knew what your roommate was thinking ("There's pizza in here somewhere."), even though what she was thinking was false. Humans do this all the time—it's a hallmark trait of what scientists call "theory of mind," or the ability to recognize that others have beliefs, desires, intentions and perspectives that are different from our own.
Until now, scientists believed this ability was unique to humans.
In new research published in Science, one of the world's top academic journals, Christopher Krupenye '11 shows—for the first time—that great apes might also posses the ability to understand what another individual is thinking, even if what that individual believes is false.
To challenge these long-held beliefs about the differences between the human and animal mind, Krupenye and his team at the Max Planck Institute for Evolutionary Anthropology in Leipzig, Germany, used experimental techniques originally designed for use with toddlers. They played a movie for three species of apes and tracked their eye movements to show the apes reliably looked in anticipation of the actor in the movie searching for an object where he falsely believed it to be, even though the apes themselves knew the object was no longer there.
"Many people in our field were content with the conclusion that, although basic aspects of theory of mind are probably not unique to humans, this more complex ability, to understand when someone is guided by information or beliefs that are no longer true, is," Krupenye said. "By providing evidence that some animals can pass a version of the false belief test, we are the first to challenge this long-held view."
Never grew out of it
Krupenye's family lived below the poverty line for most of his upbringing in the small town of Patterson, New York. When he arrived at Connecticut College, he had only left the Northeast once—his family drove to Florida when he was seven.
"At Conn, I encountered more diversity than I had before, in terms of people's backgrounds and their ambitions," Krupenye said. "Suddenly, things I had never even considered being possible became potential realities."
One of those potential realities was working with great apes.
"Like many children, I had an interest in primates when I was young," Krupenye said. "I just never grew out of it."
Krupenye's passion for animals quickly became clear to his professors, who wasted no time connecting him with opportunities for research and internships.
"I recall conversations with Chris about how we could make sure he got to do an internship at the Limbe Wildlife Centre in Cameroon," said Associate Professor of Religious Studies Sufia Uddin. "It was financially more than Chris could afford, but we came up with some ideas for funding."
The funding helped Krupenye, who also minored in French and was a scholar in the College's Goodwin-Niering Center for the Environment, work with orphaned chimpanzees at Limbe the summer before his sophomore year.
"I remember feeling really supported by my professors, even those outside of my core studies in the sciences," he said. "They noticed my passion and wanted to see me succeed, and that gave me a lot of momentum."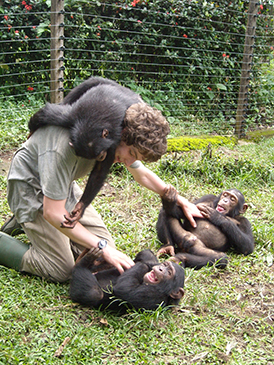 As a sophomore, Krupenye landed an internship at the Comparative Cognition Laboratory at Yale University, where leading scientists explore the evolutionary origins of the human mind by comparing the cognitive abilities of human and non-human primates.
He had found his niche.
"I realized the reason I was always so interested in primates was because they are so intelligent and like us in so many ways," he said. "I became deeply curious about their minds and how they see the world."
Krupenye also studied abroad in Madagascar and Uganda, completing a lemur cognition study in Madagascar's Ranomafana National Park and observing wild chimps in Uganda's Budongo Forest Reserve. He was awarded a prestigious Barry M. Goldwater Scholarship and a National Science Foundation Graduate Research Fellowship, which provides recipients a $30,000 annual stipend for three years of doctoral study.
"As an undergraduate, Chris made connections with some of the most prominent researchers working with primates and participated in two major research projects," said Katharine Blunt Professor of Biology Robert Askins, who served as Krupenye's adviser for his honors thesis on the perceptions of facial communication by rhesus monkeys. "I was not surprised when he won an NSF Fellowship and went on to publish his research in top-tier journals."
Krupenye says he wouldn't be where he is today if it weren't for Conn's nurturing and supportive environment.
"I had really great mentors who took interest in me and were very encouraging. Having that network of invested faculty members who really believed in me gave me the confidence to try things that were so foreign to me," he said.
Krupenye earned his Ph.D. in evolutionary anthropology from Duke University in May. There, he was part of an elite team of scientists who study hominoid psychology to draw conclusions about human and ape cognitive evolution. Now, he's a postdoctoral researcher at Max Planck, working with experts from around the world in the burgeoning field of evolutionary anthropology.
The goal, Krupenye said, is to better understand the origin of the human mind.
Juice and a movie
The classic false belief test that researchers use goes something like this: The experiment participant sees someone hide an object, then leave the room. A second person enters, and re-hides the object in a different spot. To successfully complete the test, the interviewed participant must correctly guess that when the first person returns, that person will look for the object in the original hiding spot, because he or she falsely believes it is still there.
One problem with using the test with apes: They can't talk. But neither can human infants or young toddlers. So researchers at Birkbeck, University of London developed a version of the test that used eye-tracking technology to record where 2-year-olds were looking while they watched a version of the test on a monitor. The data showed the toddlers could correctly guess—with their eyes—where the actor was going to look for the hidden object.
Krupenye, who once likened chimpanzee babies to "mischievous kids that are way too strong for their size," figured that if it could work for human toddlers, it just might work for humans' closest genetic relatives. So he and his team at Max Planck designed a version of the test for great apes.
But how do you get a chimpanzee, bonobo or orangutan to cooperate? Turns out, great apes—just like human toddlers—love to chill out with some juice and a good show.
"All of our research is voluntary and non-invasive," said Krupenye. "The apes we work with live in normal social groups in zoos and sanctuaries. When we want to do studies, the keepers call them by name into their dormitory. If they want to come in, they do. And they usually do—they drink a little juice, watch a little movie. They seem to really enjoy it."
Using an infrared eye tracker, Krupenye and his team could tell where the apes were looking as the movie played out. They found that all three species reliably looked in anticipation of the actor searching for the object where he falsely believed it to be.
Krupenye is quick to point out that it doesn't necessarily mean that the apes have the ability to fully understand false beliefs, but it does mean they can predict how another will behave in a scenario where he is acting on false information. And it leaves the possibility open.