Connecticut College's most prestigious faculty awards were presented at a May 4 ceremony honoring professors who display excellence in research, teaching and leadership.
Nancy Batson Nisbet Rash Faculty Award for Excellence in Research: Martha Grossel, Professor of Biology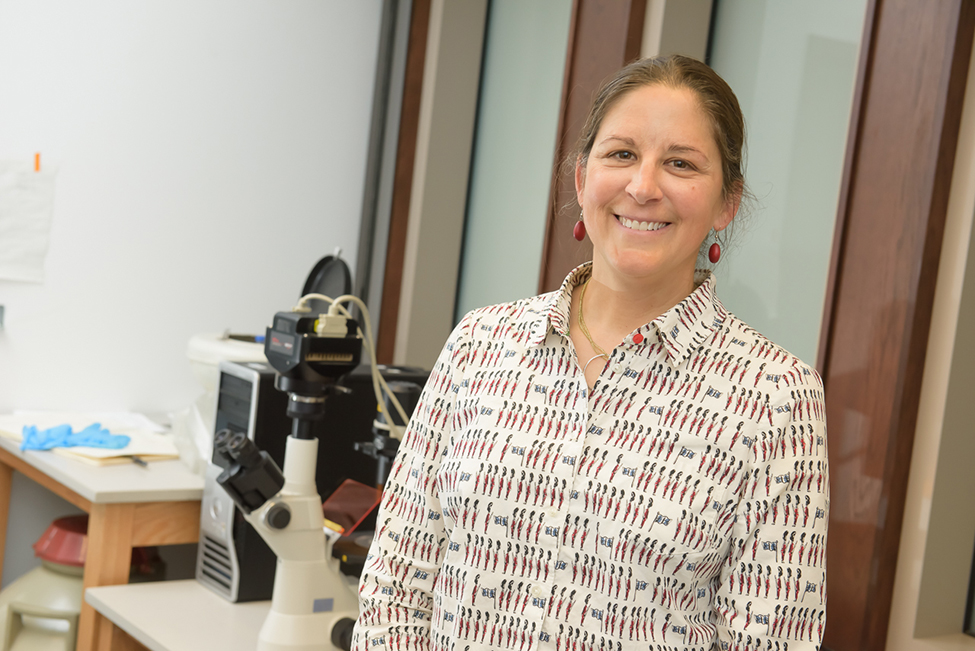 Grossel is the recipient of the 2016 Nancy Batson Nisbet Rash Faculty Research Award, presented annually to a faculty member selected on the basis of outstanding scholarly or artistic accomplishments. The award was established in 1995 in memory of Nancy Rash, the Lucy C. McDannel '22 Professor of Art History at Connecticut College from 1972 to 1995.
Grossel, a professor at the College since 1999, specializes in molecular biology, cell biology and cell cycle regulation. Her research focuses on understanding what causes the unchecked cellular division that is associated with cancer.
In 2015, she was awarded a $412,470 grant from the National Institutes of Health's National Cancer Institute for research on the interaction of the cell cycle regulatory protein "Cyclin Dependent Kinase 6" (cdk6) and the developmentally important transcription factor "Eyes absent homolog 2" (Eya2). The research is a continuation of work funded by two previous grants, including a $419,375 NIH grant awarded to Grossel in 2011. Her work has also been supported by a $465,000 National Science Foundation CAREER grant.
Grossel has published numerous research articles in Nature, Nature Biotechnology, Journal of Cellular Biochemistry, Journal of Biological Chemistry, Molecular and Cellular Biology, Virology, Journal of Virology and Cell Cycle.
Students regularly work side-by-side with Grossel in the lab. To date, 21 students have participated in her cancer research. Of those students, 33 percent have completed or are enrolled in doctorate programs; another 33 percent have earned medical, veterinary, dental or nurse practitioner degrees; and 25 percent are pursuing careers in science or teaching.
"Mentoring is an important part of any researcher's work," wrote psychology professor Joan C. Chrisler in a letter nominating Grossel for the award. "I believe that [Grossel's] students are an important part of her research contributions, as they will make important contributions of their own thanks to the strong start to their careers under her tutelage."
John S. King Faculty Award for Excellence in Teaching: John Tian, Associate Professor of Government and International Relations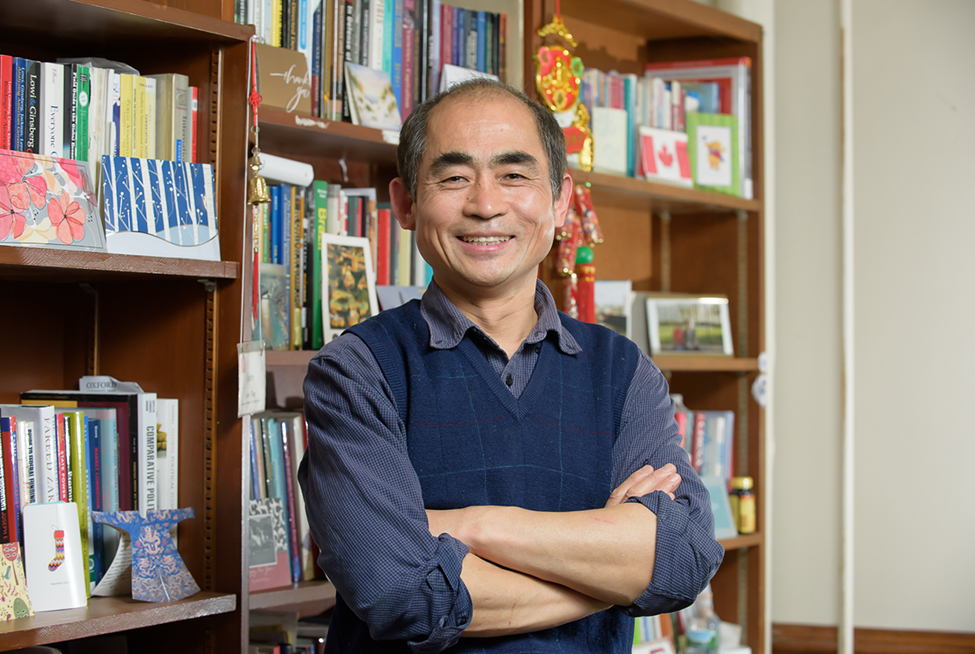 Tian, a professor at the College since 2000, is the winner of the John S. King Faculty Award for Excellence in Teaching, established to recognize teacher-scholars with high standards of teaching excellence and concern for students. The award is named for the beloved professor of German whose warmth and humanity touched all who knew him.
An expert in Chinese political economy, Tian regularly teaches five courses: "Introduction to Comparative Politics," "State and Market in East Asia," "Chinese Politics," "International Political Economy," and "National Diversity and Global Capitalism." In his courses, he exposes students to diverse perspectives on some of the most important—and often controversial—topics of our time, including the rise and fall of nations; the ascent of major emerging market economies, especially the rapid growth of China; democracy and development; varieties of capitalism; competing models of growth and governance; international trade; multinational corporations; international financial and monetary systems; and financial crises and policy responses.
"Not only are my students held to the highest academic standards, they are also encouraged to develop positive thinking, mutual understanding and to pursue their own passion and curiosity," Tian has said. "I believe this is very important in our age of rampant negative thinking, poisonous partisan politics and vicious politicization of what should be genuine intellectual discourse across different cultures and national boundaries."
In addition to the classes he regularly teaches, Tian also teaches "Emerging Market Economies: the BRICS," a course he developed in 2011 in response to the rapid rise of the economies of Brazil, Russia, India, China and South Africa and their growing global significance. He has also co-taught a course on emerging economies in Latin America and Asia with economics professor Maria Cruz-Saco, and has supervised 17 independent studies and senior integrative projects.
Helen Brooks Regan Faculty Award for Excellence in Leadership: Jane Dawson, Virginia Eason Weinmann '51 Professor of Government and Environmental Studies and Director of the Goodwin-Niering Center for the Environment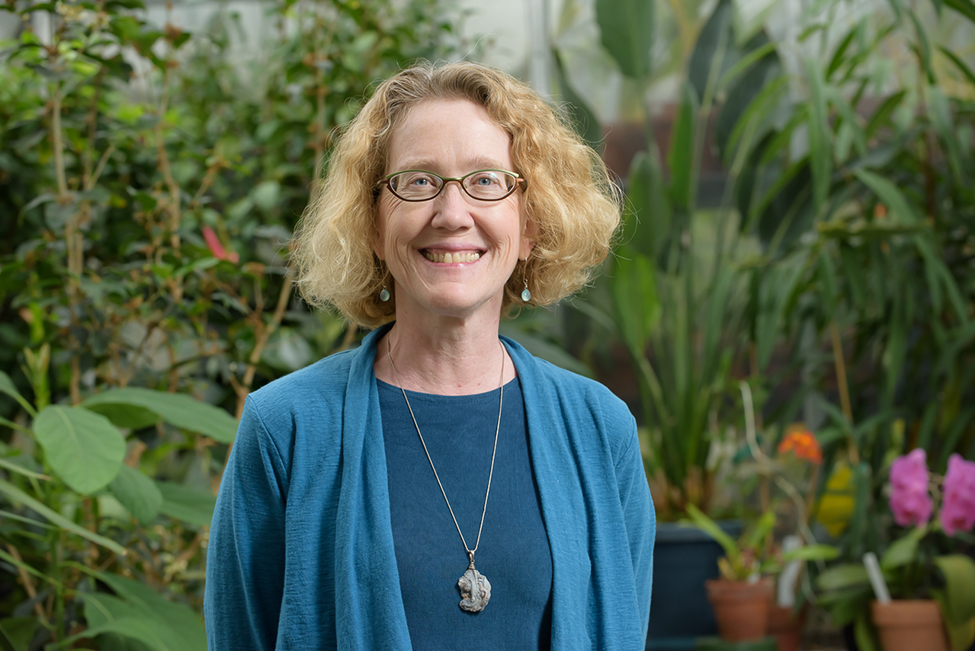 Dawson is the recipient of the 2016 Helen Brooks Regan Faculty Leadership Award, presented annually to a tenured faculty member whose outstanding service in a leadership role exemplifies the College's commitment to shared governance, democratic process and campus community development.
Dawson, a professor at the College since 2001, specializes in international environmental justice and politics and comparative environmental activism and politics. Her passion for environmental stewardship is central to her service, teaching and research.
On campus, Dawson has served as chair of the Environmental Model Committee and as a member of the Sustainability Steering Committee, and she is a frequent participant in panel discussions and other residential life and campus activities related to environmental justice. She is currently the director of the Goodwin-Niering Center for the Environment, and in 2015, she chaired the committee for the biennial Goodwin-Niering Center conference, "Feeding the Future." She also teaches a senior seminar on global environmental justice.
Dawson led the expansion and transformation of the global environmental justice education at the College as the coordinator of a $200,000 grant from the Christian A. Johnson Endeavor Foundation. The three-year project involved 18 faculty members from different disciplines and fieldwork in South Africa, India and Peru. It resulted in the creation of more than a dozen new courses.
In 2013, Dawson led a semester-long "Striving for Global Justice" initiative that included a series of public events, including a keynote speech by two-time Pulitzer Prize-winning New York Times columnist and human rights activist Nicholas Kristof.
"We are very lucky to have a scholar of [Dawson's] caliber among us. That she is also seemingly tireless in her commitment to service is remarkable," wrote Pamela Hine, senior lecturer in botany, in a letter nominating Dawson for the award. "Her talent for effectively working with diverse groups, creativity in approaching challenges, and apparently bottomless enthusiasm are a potent combination."
Helen Mulvey Faculty Award for Fostering Student Achievement: Tanya Schneider, Assistant Professor of Chemistry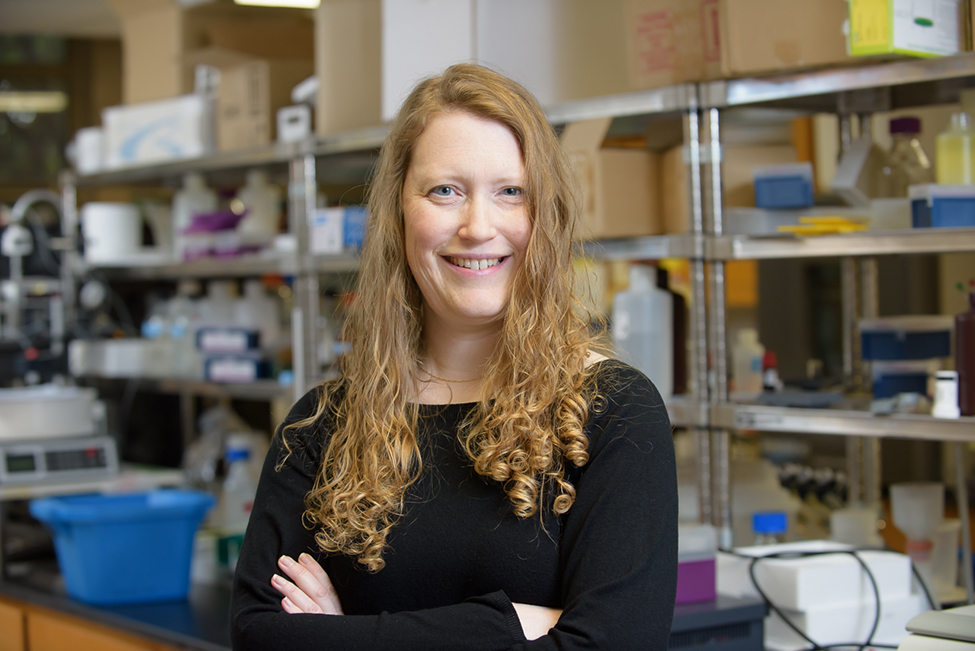 Schneider is the 2016 winner of the Helen Mulvey Faculty Award, presented to an assistant professor who regularly offers classes that challenge students to work harder than they thought they could and to reach unanticipated levels of academic achievement.
Schneider, who joined the Connecticut College faculty in 2010, specializes in biochemistry, the biosynthesis of natural products, antibiotic resistance and enzymology. She leads an undergraduate research group that is working on understanding antibiotic biosynthesis and discovering new ways to mitigate the problem of antibiotic resistance.
In her biochemistry classes, Schneider creates a learning environment that emphasizes the importance of the application and use of knowledge, rather than the memorization of content. She has modernized the way biochemistry is taught at the College, updating a previously outdated course sequence, introducing challenging and engaging class activities, and developing new laboratory experiences that more effectively embrace modern technology. In her lab classes, she involves students in her own research on biosynthesis of natural products from bacteria.
"Including students in the process of discovery is an incredibly powerful approach to fostering deep learning in the classroom," wrote biology professor Anne Bernhard in a letter nominating Schneider for the award. "Tanya does this not only in her research lab, but in the classroom as well, thus expanding the reach of critical teaching practices that many of us accomplish only in our research labs with a handful of students."