Incoming first-year student Ragna Agerup '20 readying for Rio Olympics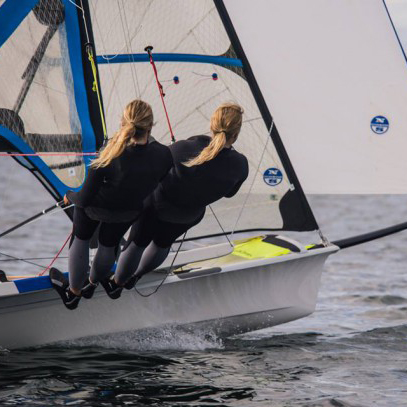 When Ragna Agerup '20 arrives on campus later this month, she will have some interesting stories to share with her new classmates.
Agerup and her twin sister Maia will be competing in the 2016 Summer Olympics in Rio de Janeiro, Brazil, for Norway in the 49erFX class (skiff) sailing event. The preliminary races are scheduled for Friday, Aug. 12, beginning at 12:05 p.m and will stream live on NBC's Olympics website.
The Agerup sisters are currently ranked 15th in the world in the event and were ranked as high as fourth in 2012. Earlier this year, the team placed fifth in the 49erFX class at the ISAF World Cup; they won gold in the event at the 2014 World Cup.
"The goal is top ten, but anything can happen in Rio," Ragna said in an article in The Norwegian American. Ragna will join the Connecticut College sailing team this fall; Maia will attend Roger Williams University.
This is the fourth consecutive Summer Olympics that Connecticut College will be represented; at the 2012 Summer Olympics in London, Amanda Clark '05 competed in the 470 class sailing event and Bob Willis '09 competed as a windsurfer. Clark also competeed at the 2008 Summer Olympics in Beijing, China, while Carol Cronin '86 and Meg Gaillard '95 competed in sailing at the 2004 Summer Olympics in Athens, Greece.
---
August 9, 2016