'Injustice prevails where hopelessness lives'
'Just Mercy' author Bryan Stevenson inspires activism with One Book One Region lecture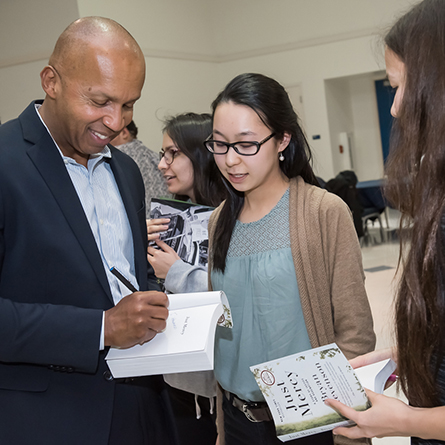 You are never too young, too old or too poor to change the world.
That was the message author Bryan Stevenson had for hundreds of students, staff, faculty and members of the greater New London community who gathered on the Connecticut College campus to hear him speak April 4.
Stevenson is an award-winning attorney and the founder and executive director of the Equal Justice Initiative, which provides legal representation to condemned prisoners, juvenile defenders, the wrongly convicted and others who have been denied fair and just treatment by the legal system. Together with his staff, he has won cases, including some argued before the Supreme Court, for 115 wrongly condemned prisoners on death row.
"We have a criminal justice system in this country that treats you better if you are rich and guilty than if you are poor and innocent," said Stevenson, who takes readers with him into violent prisons and corrupt courtrooms in his The New York Times bestselling memoir, Just Mercy: A Story of Justice and Redemption.
"Yet I'm persuaded that when good people come together and do some very basic—yet very critical—things, we can change the world."
The first step to creating meaningful change, Stevenson said, is to get up close and personal with the problems in our society. He told the audience that instead of avoiding the "bad parts of town," they should get closer to the parts of the community where there is suffering and abuse.
"Solutions are rooted in understanding," he said. "When you get proximate, you find power."
Thousands of people in the greater New London region read Just Mercy as part of the One Book One Region of Eastern Connecticut initiative. Stevenson's talk was the culminating event for the program, which included dozens of book discussions, lectures and exhibits all across eastern Connecticut. It was also the inaugural lecture in President Katherine Bergeron's Distinguished Lecture Series.
First-year student Anne Lamarre, a native of Canada, read Just Mercy as part of her "Foundations of Education" class. She said Stevenson's remarkable storytelling made the realities of inequality and social injustice accessible to her in a way they never were before.
Stevenson's first-person account of being targeted by police for listening to music in a parked car was particularly eye opening.
"I never really understood racial difference before I read that," she said.
Sandy Grande, a professor of education and director of the College's Center for the Comparative Study of Race and Ethnicity, taught Just Mercy in three of her classes. She said students were riveted by Stevenson's work and that most of them "simply had no idea" about the vast disparities in the legal and justice system.
"They learn about justice and democracy, and I think they only hear part of the story. They get really incensed when they find out about the inequities in our system," she said.
Prior to his talk, Stevenson met with several dozen students, faculty and staff. Jermaine Doris '19 was almost giddy with excitement as he waited to shake Stevenson's hand.
"He's an intellectual, but he puts what we are theorizing about in classes into effective practice," Doris said. "I'm only a freshman, and yet I'm getting this amazing opportunity to meet the author of this book I've been discussing in my classes."
President Bergeron praised Stevenson's astounding legal record and unwavering commitment to the poor, the incarcerated and the condemned. During the event, she presented him with what she deemed "one of the most honorable honorary degrees" Connecticut College has ever awarded, a Doctor of Humane Letters, honoris causa.
Throughout the evening, Stevenson advocated for activism with gripping personal stories. He shared sobering statistics and shocking anecdotes, yet implored audience members to remain hopeful in spite of the daunting challenges.
"Injustice prevails where hopelessness lives," he said. "Hope—that is what will get you to stand up when other people say sit down."
---
April 5, 2016