Junot Diaz: 'Art never betrays'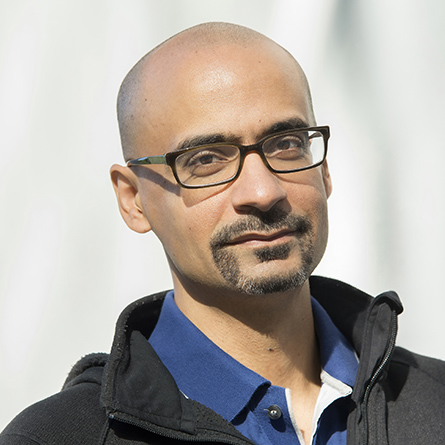 Speaking to a standing room-only crowd on an unseasonably warm Friday afternoon in April, Pulitzer prize-winning author Junot Diaz said art is his salvation.
"Growing up the way that I did, dealing with the things I did—religious leaders weren't much help. Business people weren't much help. I didn't always have great teachers. But I was never betrayed by artists," said Diaz, who was born in the Dominican Republic and immigrated with his family to New Jersey when he was a child.
"I grew up a person of color with no people of color on TV, no people of color in positions of power. Art opened up a world where I existed."
Diaz is the author of the critically acclaimed Drown; The Brief Wondrous Life of Oscar Wao, for which he won the 2008 Pulitzer Prize and the National Book Critics Circle Award; and This Is How You Lose Her, a New York Times bestseller and National Book Award finalist. A recipient of a MacArthur "Genius" Fellowship, Diaz is currently the fiction editor at Boston Review and the Rudge and Nancy Allen Professor of Writing at the Massachusetts Institute of Technology.
In what was mostly an informal Q&A—"You came here instead of enjoying the weather; let's talk about what you want to talk about," he told the students—Diaz touched on everything from imperial masculinity to white supremacy to rape culture.
"The event reminded me of how much I repress and silence myself. It reminded me of why I need to be angry every day," said Kevin Zevallos '16, who sat in the front row and shook hands with Diaz after the event.
Diaz also read a powerful passage from his fiction piece Wildwood, about a complicated relationship between a young girl and her mother, and touched briefly on the political climate in America today.
"Every time I try to write some weird dystopian shit, our politicians out-do me," he said.
Diaz's talk was sponsored by the Departments of History, English and Hispanic Studies; the Center for the Comparative Study of Race and Ethnicity; the Office of the President; the LGBTQ Center; and the Toor Cummings Center for International Studies and the Liberal Arts; and organized by Blaustein Assistant Professor of History Sheetal Chhabria.
"He speaks to a lot of relevant issues affecting our campus and our country," Chhabria said of Diaz. "I hope his visit will have an effect on the campus climate."
---
April 26, 2016