Justin Koufopoulos '10 named federal government entrepreneur-in-residence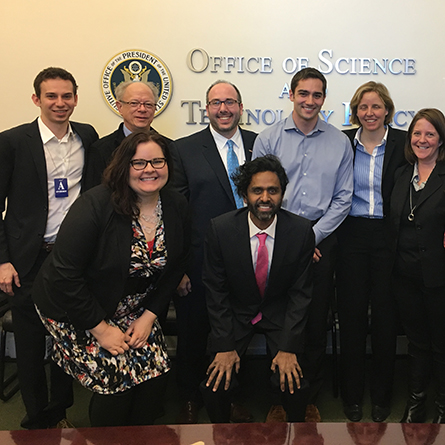 Justin Koufopoulos '10 sits in an open, modern office space, freely tossing around ideas with some of the country's top innovators, web developers and designers. It's all very Silicon Valley, except Koufopoulos isn't in California trying to launch the next social media platform or expand Google's empire. He's in Washington, D.C., solving some of the U.S. government's greatest challenges.
Koufopoulos was selected from among the country's best and brightest for the Presidential Innovation Fellows program, a partnership between the White House's Office of Science and Technology Policy and the General Services Administration. Through the highly competitive program, fellows spend 12 months collaborating with each other and federal agency partners on initiatives aimed at saving lives, saving taxpayer money, fueling job creation and building the culture of entrepreneurship and innovation within government.
"We are kind of like an internal consultancy," Koufopoulos said. "Agencies will come to us with ideas, we consider how we could best help them and then try to deliver solutions."
Koufopoulos is currently working with other fellows to reimagine USA.gov, an online guide to government services. The best part of the job, Koufopoulos says, is the shared sense of duty he and his colleagues have to make improvements that benefit all Americans.
"I feel very honored—and quite lucky—to have this opportunity to reimagine how the federal government should work for people at a time when trust in government is at a record low," said Koufopoulos. "It's amazing to learn from such an incredible group of colleagues who have diverse expertise and tremendous passion for what they do."
Koufopoulos is a product manager, researcher and social entrepreneur who has worked with the U.S. Army, PepsiCo, the U.S.-U.K. Fulbright Commission and the marketing software company Percolate. At Percolate, Koufopoulos wore many hats, from marketing to data visualization and product management.
A psychology major and East Asian languages and cultures minor, Koufopoulos said Connecticut College prepared him to be an innovator by teaching him to look for connections in unlikely places.
"Connecticut College is a great place to learn that there are no hard boundaries," he said. "There are no walls between disciplines, and if you are the kind of person who is curious about many things, you have the opportunity to explore all of them. I did different kinds of psychology research, studied abroad in Beijing and learned to ask questions and not accept the status quo."
A 2012 Fulbright Research Award recipient, Koufopoulos spent a year at the University of Leeds in the U.K. conducting research on peer-to-peer, Web-based health communities and building an online social network for asthma patients. While there, he earned a master of science by research degree in psychology and cofounded Fulbright 1:1, a nonprofit organization that improves access to education for deserving British students by helping them apply to college.
Koufopoulos was recently honored by the British Counsel for his work with Fulbright 1:1, which has helped more than 70 British students attend university in the U.S. and the U.K. with more than $14 million in financial aid awards.
The White House established the Presidential Innovation Fellows program in 2012 to attract top innovators into government. During the yearlong fellowship, Koufopoulos will be based in Washington, D.C., and considered a full-time employee of the federal government.
---
February 24, 2016