Lady of Gaga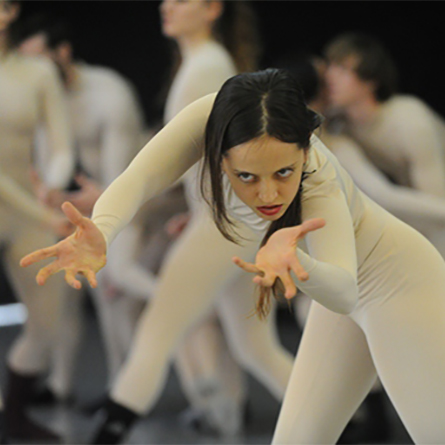 When you ask Ya'ara Moses what the Israeli dance form Gaga is, she puts on her hardhat.
"I like to think of it as a toolbox," said Moses. "It's a set of tools that you offer to a dancer and they bring out what they find."
Then she changes her mind with a laugh. "Gaga is actually everything; it can be so many things."
Gaga is what you make of it and what you feel in the moment, explains Moses, a world-renowned Gaga instructor. She is a guest artist in the Dance Department at Connecticut College this semester, an opportunity made possible by the Schusterman Visiting Israeli Artists Program. The program, an initiative through the Washington D.C.-based Israel Institute, brings Israeli artists for residencies at top colleges and universities in the United States.
The dancer from Tel Aviv is now a leading teacher of Gaga, a dance form she learned with the Batsheva Dance Company under the tutelage of artistic director—and Gaga inventor—Ohad Naharin. At the College, she is teaching a Gaga class three times a week and also training students to perform a well-known dance by Naharin to the Hebrew song, "Echad Mi Yodea," for the Dance Department's concert, Dec. 9-10.
Like many dancers, Moses started out at a young age with ballet and modern forms of dance. By 18, she was introduced to Gaga and "fell in love," she said, and began to train at Batsheva. She was drawn to Gaga because there were no mirrors, which she said "make the world two-dimensional."
"With a mirror, you move like how you look and not how you feel," Moses said. "Gaga really opens up your heart. It connects you to your true passion from the inside."
More about feeling than precision, it's considered "a movement language" rather than a dance; a way of expressing yourself. Unlike ballet where all of the dancers are working in sync, each dancer is performing the same move but in a different way. It can be as noticeable as the quickness of a move or as subtle as the expression on a face.
"You see people for who they are. You're not seeing robots," Moses said.
Teaching Gaga to dancers who are trained in classic and modern dance forms, Moses said, is challenging. She encourages her students to "be soft and let go;" to initiate movement through emotion. She wants to "reach into their guts"—figuratively, of course—to help them find what's inside.
"I want them to know they don't have to be correct," she said. "It's OK to make mistakes. It's OK to laugh at yourself and look ugly and feel something different. Connect to your instincts and be the animal you really are."
This type of pedagogical approach has impressed David Dorfman '81, dance professor and chair of the Dance Department, a renowned performer and instructor himself. Dorfman was the one who invited Moses to come to Connecticut College and has already seen her magnetism draw in students.
"Her manner of being overall is one of gentle generosity with moments of ferocity that are absolutely exquisite, especially when teaching Gaga," said Dorfman, who has joined Moses' classes to learn the dance form. "Ya'ara is an unbelievable role model for our students. She absolutely loves what she does and spreads that love to everyone."
Moses' reconstruction of "Echad Mi Yodea" will be highlighting the College's Dance Department Concert on Dec. 9-10 in Palmer Auditorium.
---
October 25, 2016