Malman nets 1,000th point as women's basketball gets off to great start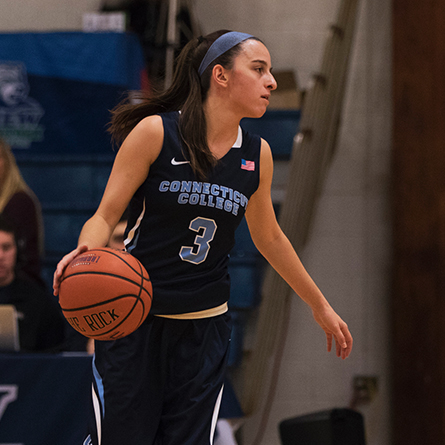 The shot drew roars and cheers—it was three points for the Camels, 1,000 points for Liz Malman '17.
The senior guard netted the 1,000th point of her prolific playing career with a 3-point field goal during the second half of the Connecticut College women's basketball team's 61-51 victory at Drew University Saturday. (Scroll down to see the clip.)
It was a hometown crowd for Malman, who hails from Mendham, New Jersey.
"This was a very special day for Liz," Head Coach Brian Wilson said. "She became the 13th player in our program's history to reach 1,000 career points, and to do it during a win at Drew in front of so many friends and family members made it even more amazing."
Malman went into Saturday's game just eight points shy of the milestone. She finished with nine points, a rebound, an assist and a blocked shot.
With the win over Drew, the women's team now boasts an impressive overall record of 8-2. The Camels will next take on the Mitchell College Mariners at 6 p.m. on Jan. 3.
The men's team is also off to a great start.
The 7-1 Camels shot a blistering 69 percent in the first half en route to a 95-75 victory at Mitchell College Saturday. Senior forward Zuri Pavlin led the team with 19 points, 11 rebounds and six assists.
Conn led by as many as 30 points in the second half as the team extended its winning streak to four.
The men return to action Dec. 30 when they take on UMass Dartmouth at the Springfield College Tournament.
Watch Malman score her 1,000th career point
---
December 12, 2016