New York Times journalist Rukmini Callimachi to give keynote address at 98th Commencement Sunday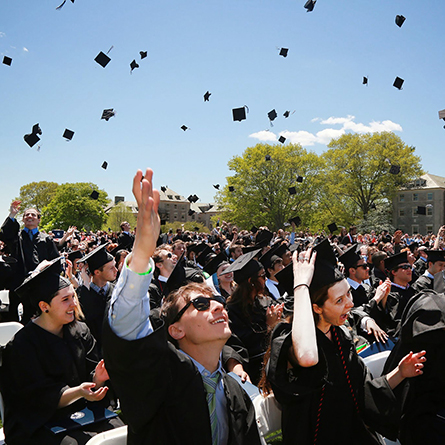 Investigative journalist Rukmini Maria Callimachi will give the keynote address at Connecticut College's 98th Commencement on Sunday, May 22.
Callimachi is the foreign correspondent for The New York Times charged with covering ISIS and Al Qaeda.
"From her exposé of the inner workings of Al-Qaeda to her reporting on hostage ransoms, her work has demonstrated fearlessness, tolerance, and a singular dedication to the truth," said President Katherine Bergeron.
Callimachi is a three-time Pulitzer Prize finalist. In 2014, she won the Michael Kelly Award, presented annually to a journalist who embodies "the fearless pursuit and expression of truth." In 2011, she was awarded the Eugene S. Pulliam National Journalism Writing Award for her article, "Haiti-Hotel Montana." Most recently, Callimachi won the George Polk Award, one of the most prestigious awards in journalism.
Callimachi was nominated to be Commencement speaker by a committee of Connecticut College students, faculty and staff. She will receive an honorary degree during the ceremony.
The Commencement ceremony will also include remarks by Bergeron and by Mia Haas-Goldberg '16, who will deliver a speech on behalf of the graduating class.
Haas-Goldberg, who hails from Manhattan Beach, California, is an international relations and history double major and a scholar in the Toor Cummings Center for International Studies and the Liberal Arts. She is chair of the Government/International Relations Student Advisory Board, an intern at the Immigration Advocacy and Support Center in New London, an executive board member for TEDxConnecticutCollege, and a barista at Coffee Grounds. Additionally, she was a cast member of the Women's Empowerment Initiative, plays for the Connecticut College Football Club (CCFC) and competed on the Women's Varsity Rowing team for three years. After studying abroad in Tunisia and writing an honors thesis on Algeria, she is hoping to return to North Africa after graduation.
Commencement weekend begins Saturday with a series of events, including Baccalaureate. On Sunday, the Commencement procession will begin at 10:30 a.m. and the ceremony will follow on Tempel Green at 11 a.m.
For more information about Commencement, including a full schedule of events, please visit www.conncoll.edu/commencement.
---
May 16, 2016