Play choreographed by professor David Dorfman '81 headed to Broadway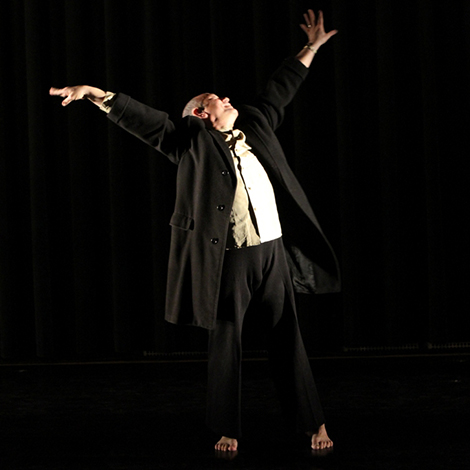 Bring on the neon lights and the crowded streets: Dance Professor David Dorfman's recent foray into theater, "Indecent," is headed for Broadway.
Dorfman '81 is the choreographer for the highly acclaimed play written by Pulitzer Prize-winner Paula Vogel and directed by Rebecca Taichman. "Indecent" premiered at the historic Yale Repertory Theatre Oct. 8, 2015, before moving to La Jolla Playhouse and then to New York's Vineyard Theatre. It will open on Broadway in April at a yet-unspecified Shubert theater.
"The director called me and said, 'It's going to Broadway.' And I was just smiling and crying. I couldn't believe it," Dorfman said. "I'm still pinching myself."
"Indecent" will be Dorfman's Broadway debut.
"I was shy about the possibility, but as the crowds kept coming [to the play] and we kept changing it and it kept getting better, the more I thought, 'People will want to see this show,'" he said.
"Indecent" tells the true story of another Broadway play, the controversial 1923 debut of Sholem Asch's "The God of Vengeance." Seen by some at the time as a seminal work of Jewish culture, others viewed the play as an act of traitorous libel; its producers and cast were even jailed for obscenity.
Dorfman, who leads the influential modern dance company David Dorfman Dance, said his challenge was to make the dance sections "very Jewish, and at the same time, innovative and new."
"I set up a gestural vocabulary from the very beginning that speaks to what it is to be Jewish and at the same time confounds what we view as Jewish traits, movements and expressions," Dorfman said.
One of the dance numbers in "Indecent" references a traditional Broadway feel; another is a piously irreverent take on Hasidic dancing. There's also a brief Irish dance, so the play includes quite a range of styles, Dorfman said.
"Indecent" is not a traditional musical, but instead a play with music and dance. In addition to the discrete dances, the transitions between scenes are full of movement, as the cast of 10 manipulates set and costumes.
"The cast is an incredible mix of actors, singers and movers," Dorfman said. "The entire original cast is returning for the Broadway production, so that is very exciting."
"Indecent" has received wide acclaim from critics. The New York Times called it "powerful" and a "superbly realized production," while Variety described it as a "riveting backstage drama."
Throughout the play's run, Taichman has continued to make tweaks and changes, turning a great play into a true masterpiece, Dorfman said.
"I truly admire Rebecca for the innovative, visionary, fastidious, collaborative work she has put into this play," he said. "We joke that we've changed the first dance about 100 times. But it's not really a joke.
"I feel truly lucky to be able to work with her, and with Paula Vogel and the whole team. I'm also very grateful for the incredible support I've received from everyone at Connecticut College."
---
October 27, 2016