Ben Johnson '04 wanted to change the world. And through his technology-focused podcast and radio show, he just might.
By Maria P. Gonzalez
Ben Brock Johnson '04 had a simple question: Is technology evil?
As host of the top-rated Codebreaker podcast, Johnson explored that question over seven episodes, each one delving into a subset of tech. Whether discussing the value of email, the power of "going viral" or the ethics of the dark web, Johnson kept those three simple words at the core.
"I think most people who work in tech—technologists, futurists, or any person who would be thinking a lot about tech or using a lot of tech in their daily lives— would say that no, technology is not evil, it's a tool," Johnson explained.
"Technology can amplify our own actions whether or not they're good or evil."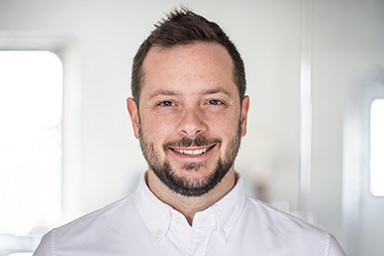 You might not recognize Johnson if you met him, but you likely know his voice. As host of the public radio broadcast Marketplace Tech, Johnson reaches a daily national audience of about two million as he explores the impact of technology on our lives.
Yet Johnson, who initially wanted to be a diplomat while a student at Connecticut College, shies from calling himself a tech expert.
"I'm an expert often in the circles that I move in," he joked. "I was doing some tech support for my mother-in-law this past weekend. In that way, I'm a tech expert. But most of the time I'm just talking to people who are much smarter on a given topic than I am, and learning from them.
"I think of myself more as a good translator between the experts and the people who are not experts who want to understand," he said.
Johnson landed in broadcast journalism on a detour from his original ambitions, which were more aligned with changing the world.
"I wanted to go into foreign service, so I took a lot of government classes. That was my focus for a long time. I had super grandiose dreams."
A semester studying in Washington, and an internship with a member of Congress, solidified the path he wanted to take.
"I went to a lot of congressional hearings. I wrote a lot of constituent letters, responses, things like that," he described. "I started to realize that I didn't want to be in government."
What did interest him was the power of the press, and how carefully Capitol Hill followed the daily news. An internship with The Day newspaper in New London turned into a full-time job covering music and entertainment after he graduated.
And he was set, until love took him on another journey.
"I was happy doing what I was doing in New London. I had been working at The Day for two years. I was playing a lot of music and enjoying the local music scene," he said.
Then "the love of my life—as I discovered—moved to New York, and I thought, oh man, I better figure something out."
Johnson moved to New York City in 2006 to be closer to Sarah Lumnah Johnson '05. The couple met in Weller Professor of English Blanche Boyd's narrative nonfiction class at Conn, and married in 2011.
"It was pretty great," Lumnah Johnson said, recalling those early days in the city. "We lived just a few blocks away from each other and had our Conn friends with us. Ben and I moved in together a year or two after that but we still see our college friends in New York all the time."
Around the time Johnson moved to New York City, the tech world was quickly evolving. Facebook launched in 2004 as an exclusive platform serving college students. The video-sharing website YouTube appeared in 2005. And in 2007, Apple released the first iPhone, heralding the age of the smartphone.
As a journalist, Johnson kept up with the shifting tech tides. He was an early blogger at The Day, and produced video for the Staten Island Advance newspaper in New York.
"I feel like I've always taken a tech-forward approach to producing media wherever I've been," he said.
To break into radio, Johnson juggled an internship with WNYC while keeping his newspaper job. On his craziest day, he worked 22 hours between the two jobs.
"Connecticut College really helped prepare me for all of those things by making me genuinely curious about the world and also really open to learning from anyone about their own experience, and getting them to speak their own truth," he said.
Eventually, Johnson took a job with the online news magazine Slate, producing videos for Slate V, its partnership with YouTube.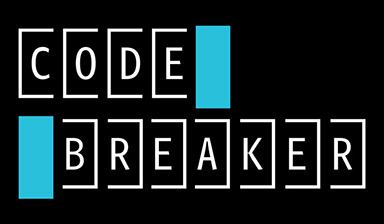 By 2012, Johnson was back in radio, this time at Marketplace, which is produced and distributed by American Public Media. He's been hosting Marketplace Tech since 2014, and launched Codebreaker in 2015 in partnership with Tech Insider. The tech podcast was in the top 10 of iTunes podcast charts, and still draws daily downloads.
A second season of Codebreaker is in production and will launch in November. Like the first season, a "code" in each episode will unlock the next, offering a unique approach to binge-listening.
This time around, the show will explore facets of technology—surveillance, encryption, biohacking, bionics, crowdsourcing and climate change. At the center of the show, Johnson said, will be another simple question.
"Can technology save us?"