'Remaking the Liberal Arts': President Katherine Bergeron talks Connections with The Chronicle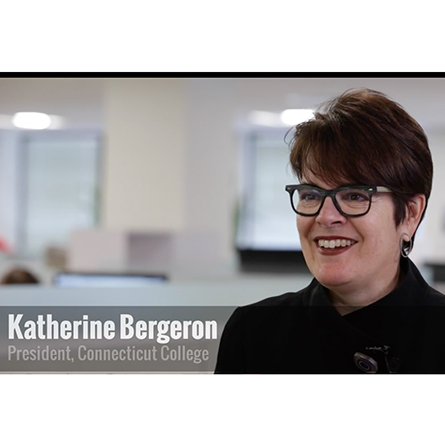 In a new video interview with The Chronicle of Higher Education, Connecticut College President Katherine Bergeron discusses how the College has reinvented the liberal arts to frame students' education around problem-solving and help them better connect their experiences inside and outside of the classroom.
"We really needed to create some new structures that help students deal with complexity, because the goal of an education is to prepare students to confront the increasingly complex world problems," Bergeron told Ian Wilhelm, a senior editor at The Chronicle.
The new curriculum, called Connections, was "born out of that emphasis to think about how you tie together the kinds of work that students do in their classes, of course, but also in the community, in the world, and in their lives after college," she said.
Launched this fall for the Class of 2020, Connections encourages students to ask personal and meaningful questions and explore answers by integrating courses from multiple disciplines, engaging in off-campus learning and sharing what they have learned with the larger community. The program culminates in an integrative presentation, project or performance that focuses on an animating question of interest to the student.
The Chronicle published an article about Connections, "General Education Gets an 'Integrative Learning' Makeover," in August. Inside Higher Education and The Day have also written about the innovative new curriculum.
Bergeron said she had the good fortune of arriving at the College at a time when the faculty was already thinking creatively about a new educational model, and she commended the faculty's collaborative efforts.
Students and parents are already seeing the value of Connections as a way to prepare for rapidly evolving 21st-century careers.
"The liberal arts have always been about creating engaged citizens who are capable of addressing the most critical problems of our day," Bergeron said. "We have to do that in new ways in the 21st century."
She added, "Ultimately, we are interested in long-range success—how people are engaging in the world as citizens and in their lives after college."
Bergeron's interview is part of The Chronicle's "On Leadership" video series, which explores various aspects of campus leadership with presidents across academe.
---
November 22, 2016