Remembering Elie Wiesel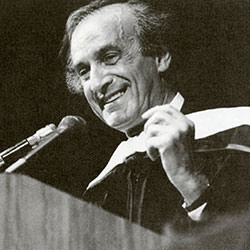 Connecticut College Religious Studies Professor Sharon J. Portnoff recalls Elie Wiesel, who died Saturday at his home in Manhattan at the age of 87, as not just a witness to genocide, but also as a storyteller whose own experiences inspired others to follow his humanitarian ideals.
Portnoff, the Elie Wiesel Professor of Judaic Studies, described the power of Wiesel's storytelling through her own experience in one of his classes at Boston University in the 1990s.
"Storytelling was the foundation of his teaching because, through the telling of stories, he could speak directly to his listeners' humanity, to their sense of being part of a human community and to the responsibilities that entails. He liked to say that 'to listen to a witness is to become a witness,'" Portnoff said. Portnoff was interviewed by The Day for an article on Wiesel's connection to New London.
Wiesel survived imprisonment at the Auschwitz and Birkenau concentration camps as a teenager and went on to become a professor, a writer, a Nobel Laureate, and a human rights activist, among other achievements.
The Elie Wiesel Chair in Judaic Studies is a senior appointment in the Department of Religious Studies reserved for a distinguished scholar committed to advancing Judaic Studies within the liberal arts. The endowed position was established in 1990 by a generous gift from alumna JoAnn Hess Morrison '67. Wiesel delivered a lecture at the College to commemorate the professorship that year.
Portnoff is the second faculty member named to the Elie Wiesel Chair in Judaic Studies after Roger Brooks, former dean of the faculty, who held the chair from its inception to 2014. Brooks is now the president and CEO of Facing History and Ourselves, a global organization in Brookline, Massachusetts that educates people about antisemitism, racism and prejudice. Brooks said Wiesel's legacy to the world lies in the power of his words.
"The absence of Elie Wiesel's voice will be a challenge for us all," Brooks said. "Our call to action should be to read his writings again and again as they will help us grapple with future problems of meaning."
Wiesel is perhaps best known for his work "Night," which retells his harrowing experience as a prisoner at Auschwitz and Birkenau. Portnoff, who teaches "Night" in her class on the Holocaust, said Wiesel had the ability to impact people toward ethical and humanitarian action. She described his passing as "the loss of a moral conscience for the world."
"Just the fact that he was here in the world, inspired people—even those who had never read his books—to rise to ethical action. So it is truly a great loss."
Portnoff said her students are often reading "Night" for the second time in her classes, because the book is so widely studied in high school. Yet on a second, closer reading, students can often gain deeper insight than the initial shock of war.
"It speaks to you no matter what age you are, no matter how much of a background you have. Because it was done through storytelling, people could read it, and suddenly they start to understand something about the people that were lost.
"They become aware of what was lost," she continued. "One of the things in Holocaust studies, on the simple level when you're teaching it, is to make sure that there's emphasis not just on war and horror, but on the individual people and what their lives were like."
Portnoff has been inspired to incorporate storytelling in her own teaching, especially when about the Holocaust, to make a direct and visceral connection with students.
"Storytelling brings in the individual and humanizes the victims," she said.
Portnoff first meet Wiesel in the early 1990s when she attended his class on Hasidism at Boston University. Wiesel spoke of being a child in his village of Sighet and visiting a rabbi with his mother. Wiesel did not hear the private blessing given to his mother, and his mother would not tell him. She died at Auschwitz.
It was through a chance meeting years later with a woman from Sighet who survived the genocide that Wiesel finally learned what the rabbi had said to his mother: Wiesel would one day do important things.
"He wanted, through stories, to touch listeners directly," Portnoff told The Day. "He hoped … to make the listeners of his stories into witnesses."
---
July 6, 2016