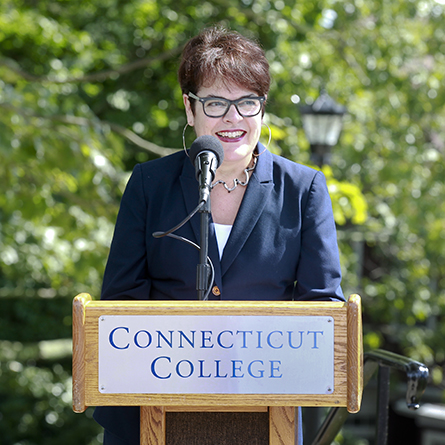 Connecticut College faculty, staff and students joined President Katherine Bergeron to mark the official reopening of Unity House and the completion of a road extension project that connects the north and west parts of campus.
At a ribbon-cutting ceremony Tuesday afternoon, Bergeron highlighted the renovation of Race and Ethnicity Programs at Unity House and a new road as among the most significant of the College's summer projects.
"A landscape tells you a lot about your values, and I am so glad that this new work has demonstrated the value that we have for diversity, equity, inclusion and the work we want to do to make Connecticut College a better place," Bergeron said.
Bergeron recounted the early history of the Unity House facility, which served as the residence of college presidents dating back to Katharine Blunt and including Rosemary Park before it was designated as the College's multicultural center in the 1980s.
"The president's house became the center of multicultural activity and diversity and equity on this campus," she said. "That's a forgotten history that I want to remind you of now. I love the fact that this private space is not private anymore. It now feels like the destination it was always meant to be."
She noted that the connectivity of the road provides a newly broadened sense of possibility that is representative of the connections students make inside and outside the classroom.
"This theme speaks to many of the things we're trying to accomplish at this College," Bergeron said. "And it's not just that the road connected two previously separated part of the campus. It has opened a path to one of our most essential student centers on campus, the Unity House, and has made the centrality of Unity House visible for the first time ever."
The Unity House and road improvements were among several projects completed over the summer. Rich Madonna, vice-president of finance and administration, spoke about the ambitious schedule and scope of the projects, including those that are not as visibly prominent, such as a new entryway in Cummings Art Center and updates in Morrisson House.
Madonna acknowledged that the projects were a campus-wide collaboration, and took a moment to thank all those involved.
Unity officially reopened with updates and renovations, while the newly expanded road includes improved footpaths and green spaces to enhance walkability and make all parts of campus—from Fanning Hall to Unity House to Zachs Hillel House—easier to access.
Among those in attendance at the ribbon-cutting ceremony was the College's new Dean of Institutional Equity and Inclusion, John McKnight, who noted the important role of multicultural spaces on college campuses.
"Unity House represents one of those places on campus that can be a hub of activity and dialogue around difference, what it means to bring our identities together into a space like this, and to really learn from one another," McKnight said.
---
September 21, 2016