With a non-profit farm and high-end restaurant, trustee David Barber '88 is on a mission to save the soil.
O
n a chilly spring day in the heart of Rockefeller country, David Barber '88 watches tiny lambs play in an open barn guarded by a fluffy maremma sheepdog. He smiles as one lamb begins to nurse, tugging aggressively on his mother.
"He's a big guy, too—that one clearly likes to eat," he says.
In a few weeks, the sheep will begin grazing—in a carefully orchestrated pattern—in the rolling fields that surround the high-end Blue Hill at Stone Barns restaurant.
At some point, they will be dinner.
You won't find lamb on the menu at this idealistic farm-to-table establishment, located in Pocantico Hills, New York, but that's because you won't find any menus. Here, customers don't decide what they want; the farm's bounty determines what they will get.
That's how we all should eat, says Barber.
Stone barns
Just 30 miles north of New York City, Pocantico Hills is Hudson Valley dairy country. In what was once a manure shed, Barber peeks into a slow cooker that is being powered by an experimental compost system a few feet away. He explains that compost has to be kept at a consistent temperature, ideally between 145 and 180 degrees. That just happens to be about the same temperature gourmet chefs use to slow cook their creations.
"The high-end equipment chefs love are egregious on energy use," he says. "We are looking for ways to use the energy that is already here."
Next to the slow cooker, tiny sprouts shoot up from flowerpots lined on a shelf. The air in the room is cool, but the plants are warmed by compost wastewater that runs through clear plastic tubing underneath the pots. Outside the open shed doors, a group of children on a field trip splash in the puddles left behind by April showers.
In the center of the room, a rustic chandelier hangs above a colossal wooden farm table. Later in the evening, dinner guests will leave their tables in the main dining room to enjoy one of 25-40 small courses in this room, amongst the seedlings, the slow cooker and the roasting manure.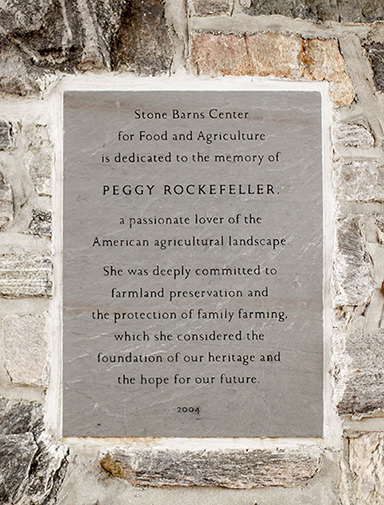 In the 1920s and 30s, this was a dairy farm owned by the iconic Rockefeller family. It was used sporadically as a farm in the 1950s, then as a garage for Nelson Rockefeller's car collection in the 1960s. Eventually, the property fell to David Rockefeller and his wife Peggy, a founding board member of the American Farmland Trust, and she revived it as a dairy operation. After her death in 1996, David Rockefeller struggled with what to do with the sprawling estate. He considered deeding it to the adjacent Rockefeller State Park Preserve, but worried the cost of preserving the stone barn buildings Peggy loved would prove prohibitive, and they'd be torn down.
At the same time, Barber, who majored in economics, decided to go into business with his brother Dan, a chef. They opened Blue Hill Restaurant in New York City's bohemian Greenwich Village in 2000. Dan Barber's unique upscale dishes, created with ingredients from sustainable and local sources, quickly gained a following of foodies.
One regular customer was David Rockefeller, who gave the brothers a shot at outlining a vision for his wife's beloved farm.
The Barbers dreamed up a working farm that would serve as a non-profit education center and living laboratory for agricultural science. To make the project sustainable, the crumbling stone structures would be restored to house the for-profit arm of the operation, a world-class restaurant that would buy and serve all the food grown on the farm.
After two years of planning and two more years of renovations, Stone Barns Center for Food and Agriculture opened in 2004.
The season and the soil
Even on a dreary spring day, the Stone Barns campus is a flurry of activity. Farm hands transfer seedlings, cull hens and milk Dutch belted dairy cows. Chefs peel 10-inch long mokum carrots, chop tropea onions and pickled ramps. In what was once a Rockefeller dairy barn, wait staff ready exquisite table settings to prepare for the evening's guests.
People come from all over the world to eat at Blue Hill. The dinner, "Grazing, Pecking, Rooting," runs $238 a person; a wine pairing can be added for $148. Each guest is treated to at least two dozen small courses over several hours. "There is literally a story for every ingredient," Barber says.
The meal is an experience tailored to each guest. Those with more adventurous palates will be served the evening's stranger concoctions, and servers are taught to gauge a party's interest in the food philosophy that drives Blue Hill.
"We get people here who are meeting friends they haven't seen in 15 years and they just want to catch up," Barber says. "Then we'll get hipsters from Brooklyn who've saved up for four months and if we don't feed them sheep's brains, they'll think they've been duped."
The offerings vary greatly from month to month, even week to week. January diners might enjoy parsnips, winter kale and pork sausage; in June there's likely to be tiara cabbage, zucchini flowers and baby lamb.
Here, the season and the soil dictate the selection. That can be a difficult concept for Americans used to eating what they want, whenever they want it.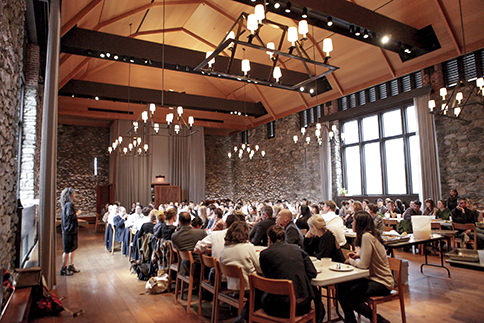 "People show up here in August and they are big foodies, but they don't eat dairy, they are vegetarians, they have a gluten allergy and they don't like tomatoes," Barber says. "I'm like, 'Well, what the hell are you doing here?'"
The problem with the locavore movement is that the market is still driven by consumer demand, Barber says. Sure, it's great to support local farms, but there's nothing especially sustainable about farmers growing what customers want.
Instead, farmers should be growing and raising what is best for the soil, and food should be the byproduct of that exercise. But for that to work, people have to commit to buying, cooking and eating the foods that make sense for their region.
"If you want to be a dairy-free vegetarian, you probably shouldn't live in the Hudson Valley," Barber says.
Not your grandpa's farm
Inside Stone Barn Center's 22,000-square-foot greenhouse, a farm hand, "Texas," runs dirt-crusted fingers over the tiny leaves of seedling sprouts. He greets Barber with a wide smile and tells him proudly that the seedling room is almost out of space.
Soon, these baby plants—mint and eclipse onions and striped German tomatoes—will be transferred to a predetermined bed in the main greenhouse, where rows upon rows of leafy green vegetables are doing their part to enhance the New York soil.
Barber explains that there is a scientifically analyzed master plan for each bed. The system requires high levels of diversity, and rotation is key. One crop will occupy a bed for 45-60 days, then something else is planted there. The same crop won't go back into the same bed for at least 18 months.
That process actually returns nutrients to the soil; study results over time show the soil getting healthier. But there is other evidence that the system works, too. "You can taste it in the food," Barber says.
The animals also rotate. They graze in the fields of the 16-acre farm in a pattern designed to make the grass healthier the next time they come through. The sheep might start in one field, for example, followed by the chickens. Then the pigs bring up the rear.
"The whole herd does this dance," Barber says.
Good farmers are farming this way, and part of the mission of Stone Barns Center is to educate those new to the field (pun intended). An apprentice program gives hands-on experience to as many as a dozen young farmers each year, while the annual Young Farmers Conference draws a crowd of 250. Technical workshops on everything from beekeeping to engine repair take place all year round.
One thing Barber makes clear: This is not a throwback movement.
"We are not going back to the way grandpa used to farm. It's a great misconception that there is anything to 'go back' to," he says. "Europeans came here because they didn't have any land; they didn't know how to farm. Anything they stuck in the ground grew, because Native Americans knew what they were doing with the soil. But they over-farmed, destroyed the soil and, when things no longer grew, they moved west."