Sophomores win $10,000 Projects for Peace grant to extend daycare hours in Ecuador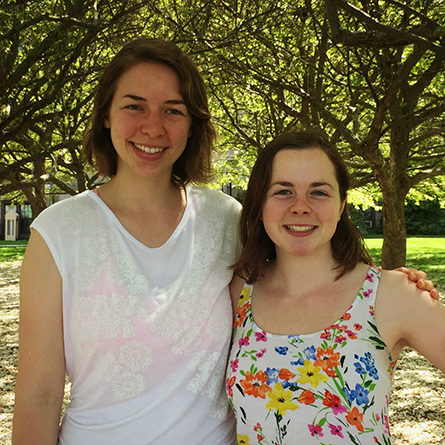 Before matriculating to Connecticut College, Annette Davis '18 spent a gap year with a host family in Cumbaya, Ecuador. When she went back to visit during her first year at the College, she asked the family a question: If I could win a $10,000 grant for a project to benefit the community, what would be the greatest need?
"They came back with a couple of ideas, but the one that stood out the most was the need for affordable afternoon and evening childcare," said Davis, an anthropology and Hispanic studies double major, and scholar in the College's Holleran Center for Community Action and Public Policy.
While some childcare centers in Ecuador stay open until 4 p.m., many close at noon. That leaves working class families—especially those headed by single parents—without any safe and affordable options for childcare.
So Davis teamed up with Emma Race '18, an English major, Latin American studies minor and scholar in the College's Toor Cummings Center for International Studies and the Liberal Arts, to apply for a $10,000 Projects for Peace grant. The vision of philanthropist Kathryn W. Davis, Projects for Peace challenges college students to create and test their own ideas for spreading peace across the world.
Having worked closely with Associate Dean for Fellowships and Scholarships Deborah Dreher on their proposal, the students' project, "Caring for the Future: Helping Families Help Themselves," was one of 120 projects funded this year.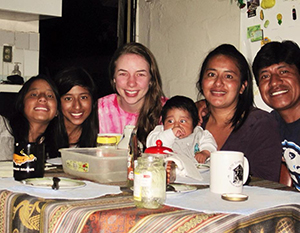 The students are partnering with Burbujitas de Luz, a preschool in Quito, Ecuador, to launch an evening care program that will serve children ages 3-5 from 4-8 p.m. daily. They plan to offer enrichment activities, outside playtime and a light and healthy dinner.
Davis and Race hope to extend the reach of their community-driven program by collaborating with other childcare centers, as well as forging relationships with local organizations capable of funding such programs. They will also be conducting research on food inequality and linguistic inequality.
"I'm most excited about meeting inspiring people and learning from what is already happening with affordable childcare in Ecuador," Race said.
Race and Davis will spend the summer in Ecuador working on the project. They plan to blog about their experience at AnnetteandEmma.blogspot.com.
---
May 18, 2016