Juan Flores '16 is using his Mortimer Hayes-Brandeis Traveling Fellowship Award to explore Mexico's emerging sound art scene.
Vibrant and youth-driven, Mexico City is an ideal place for Juan Flores '16 to explore the cutting edge in art, specifically, experimenting with sound art.
Flores is one of only three recipients of this year's Mortimer Hayes-Brandeis Traveling Fellowship Award, which supports students in the visual and fine arts to travel and live outside the United States as they complete an approved project. He will spend the bulk of the upcoming year compiling research and amassing experiences for an end-of-year exhibit that will draw on sound and noise art to make an artistic statement.
As a contemporary art medium, sound art provides an auditory element to traditional art works. Sculptures that generate sound through the incorporation of wind or water are one example; video installations that provide a visual and auditory component would be another.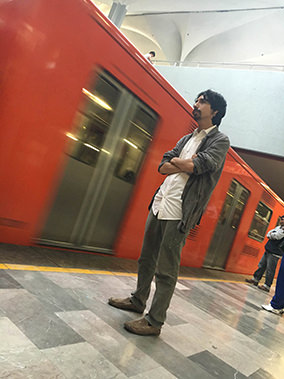 Flores' days are filled with visits to art galleries, sound art events and classes, and artist lectures and workshops. He is also developing a collaborative network of artists and performers. These artists might utilize pre-Hispanic and Mexican folk instruments unique to their culture, and combine them with digital sound software to produce new sounds.
Flores believes the political upheaval and subsequent violence of recent years have drawn artists to form collectives driven by expression through experimentation. He's been invited to be a guest artist for one collective, Umbral, to mark the group's two-year anniversary.
"The sound scene in Mexico City is very unique and says a lot about the artistic climate, and it is the reason I came here. I plan to heavily investigate sound as a medium, and later on, performance," he said.
What he has found so far is that there is no true limit to how sound, noise and music can be manipulated for artistic expression.
"I've seen people use coding to generate sounds and images, Kinect cameras, self-made controllers and repurposed ones from video games," he said. "I've seen all sorts of objects like pieces of wood, whistles, drums, cymbals, coins, turtle shells.
"Sound art, performance, film, theater and music are all being pushed further with creative and extremely experimental use of technology and I want to witness as much of this as I can."
Part of his $19,000 fellowship award went to the purchase of equipment to begin recording and manipulating sound—whether from the city's soundscape or from indigenous instruments like a "silbato de jaguar," a whistle that simulates a jaguar's roar.
Before he graduated in May, Flores received the Connecticut College Art Department's First Prize for his "Stations of the Border" honors thesis, in which he tackled themes of immigration, transformation, culture and identity with a variety of mediums, from oil on canvas to video production. His fellowship project, "Looking for Mexican Techno-Culture Through the Country's Eccentric Electronic and Experimental Sound Scene," will build off those themes and mediums.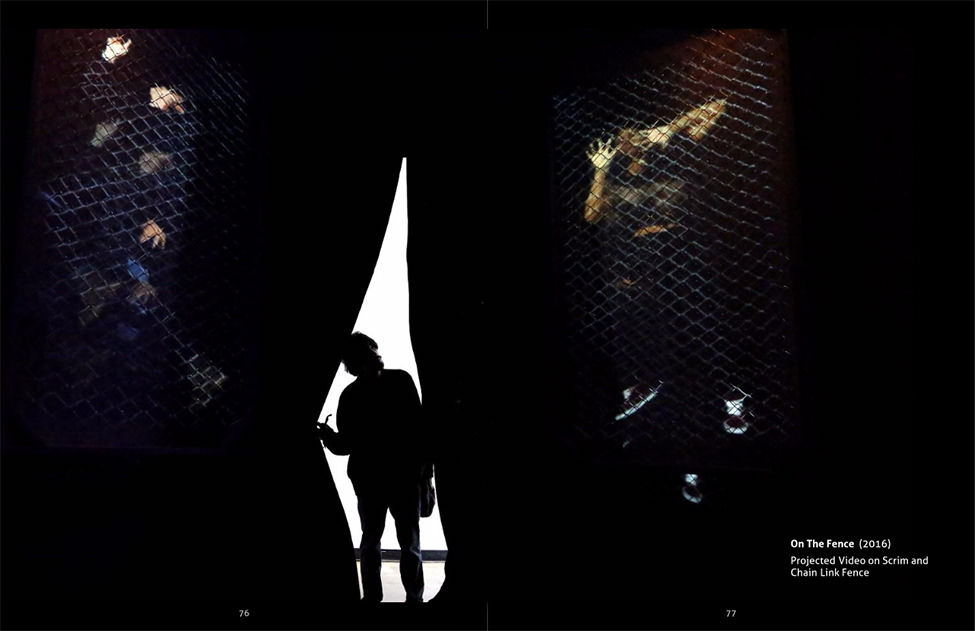 Professor of Art Andrea Wollensak, who is also the Judith Ammerman '60 Director of the Ammerman Center for Arts and Technology, called Flores "a serious and committed young artist with an outstanding work ethic."
"His work is conceptually driven," she said. "He explores ideas of culture, borders and identity in a fluid process and through a variety of media from interactive video, sound, painting, printmaking and sculptural form."
After graduating and before traveling to Mexico, Flores hosted his first solo exhibit, "Residue," at R Space Gallery in his hometown of San Antonio, Texas. Impressed with his work, gallery owner Alex Rubio has booked Flores for a future exhibit.
Flores, who is researching master's programs in art, will spend the last half of his fellowship in the studio, where he can transfer his cultural and artistic explorations onto a new body of work driven by Mexican youth and culture.
"I want to capture the lives of young Mexican artists and creatives who are embracing newer technologies and who offer a specific way of seeing the world," Flores said.