Student effort seeks to reduce stigma of menstruation
Menstrual hygiene products are now provided free of charge in some campus restrooms as part of an ongoing student initiative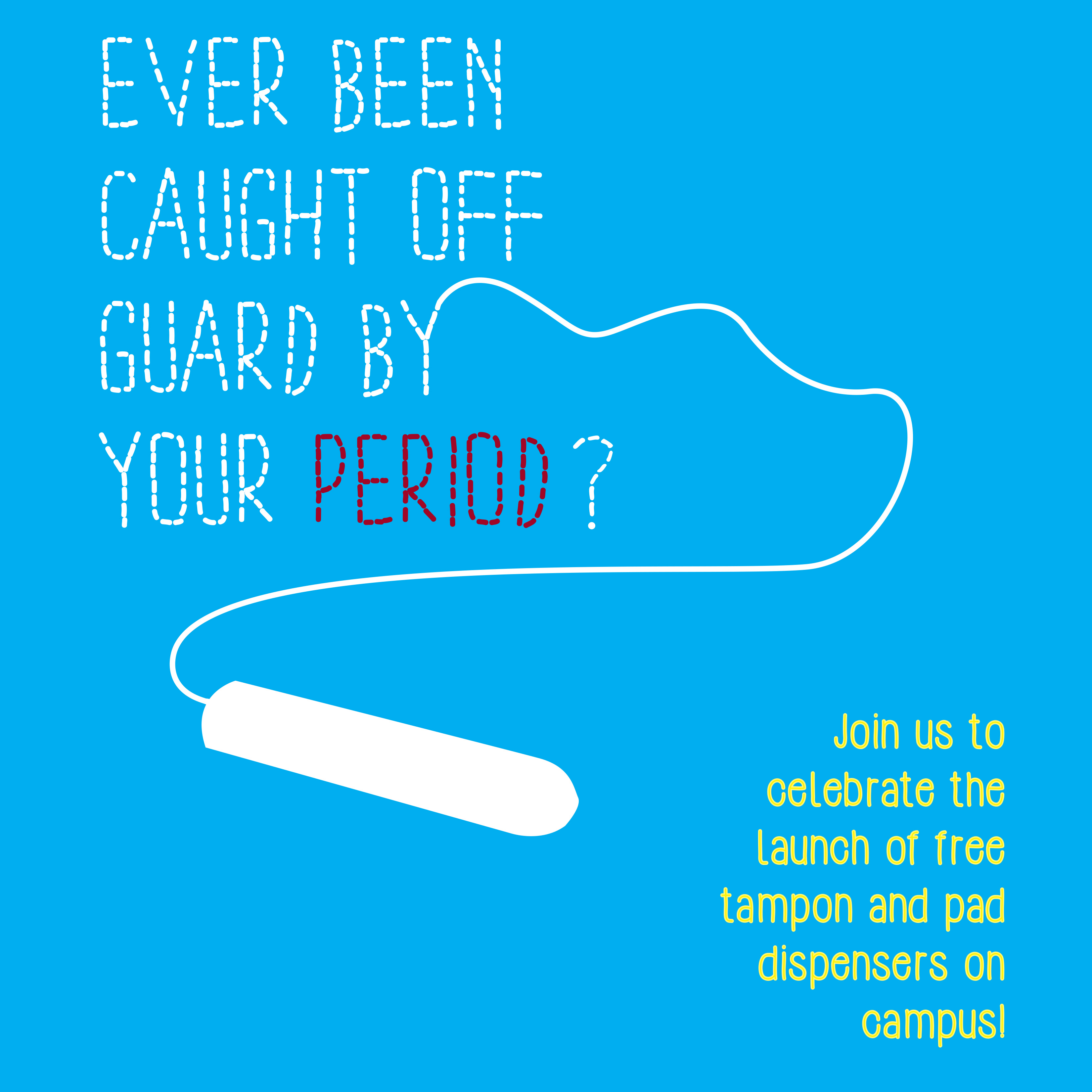 Emma Horst-Martz wants to talk periods.
"Over a year ago I was doing some research for a gender and women's studies class on the stigma of menstruation," said Horst-Martz, a junior majoring in American studies. "All over the world, people miss school, work and social engagements while they're on their periods."
And when a period arrives unexpectedly, a lack of access to basic supplies—tampons and pads, to be exact—can stir feelings of fear and embarrassment on top of the inconvenience.
So Horst-Martz launched the Menstrual Health Pilot Program at Connecticut College to provide tampons and pads free of charge to anyone who many be caught off guard during that time of the month.
"Tampons and pads should be available for free the same way that toilet paper is," she explained. "Both are medical necessities and allow people to go through menstruation with dignity."
On Wednesday, a ribbon-cutting ceremony at the Student Center at Crozier-Williams marked the program's launch with the recent installation of three tampon and pad dispensers in Cro restrooms. The Student Government Association Assembly on Thursday unanimously approved funding for two more dispensers, as well as additional supplies, in restrooms at Shain Library.
And that's just the start.
"The goal is to eventually have a dispenser in every bathroom on campus, just as there is toilet paper in each bathroom," Horst-Martz said. "This may sound radical, which goes to show that we need to shift how we think about health, gender equity and the body."
As she was developing the program last year, Horst-Martz met with Connecticut College President Katherine Bergeron early on to discuss her ideas.
Bergeron, who spoke at the ceremony, described her initial meeting with Horst-Martz as an example of the administration working closely with students to implement important projects.
"This is a phenomenon of Connecticut College: that students can have access directly to the administration in helping to achieve their goals. I want to praise Emma for her initiative, for her tenacity and for seeing a dream come into reality."
Horst-Martz then worked with Rich Madonna, vice president for finance and administration, to see the Menstrual Health program through.
"It has really been a great collaboration," Madonna said. "Emma had this wonderful idea. We sat down and we talked about how to implement it. We did some brainstorming, and came up with the idea that Cro was a space that all could access."
The three dispensers are installed in two women's restrooms and one gender inclusive restroom because, as Horst-Martz stressed, menstrual health is not simply a women's issue.
"As a campus that values full gender inclusivity, it is important that we provide these supplies to those who may not present as female, but still menstruate."
Menstrual health has been a growing topic of conversation in recent years both nationally and globally with UNICEF taking up menstrual hygiene management as an important component of its Water, Sanitation and Hygiene (WASH) initiative in developing nations. The hashtag #MenstruationMatters is among many related to menstrual health that keeps the conversation going on social media.
---
November 4, 2016