Students awarded grant from World Jewish Congress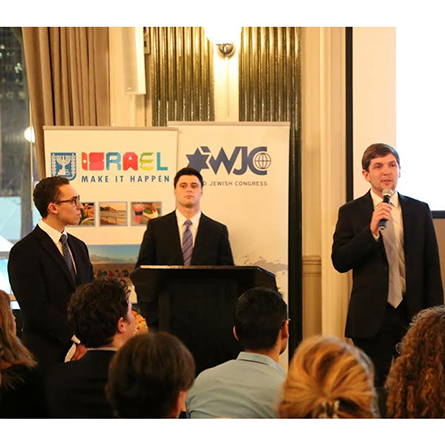 Three Connecticut College students have been awarded a $2,500 grant after taking part in the first Campus Pitch Competition, a joint initiative of the World Jewish Congress and the Israeli Consulate in New York.
Simon Luxemburg '18, Daniel Kramer '18 and Connor Wolfe '17 were finalists in the competition, the culminating event of a semester-long campaign in which student groups from the Tristate region submitted proposals for events, initiatives and ideas to broaden the conversation about Jewish issues on college campuses.
After submitting their initial proposal for campus programming—to bring in speakers to discuss Israeli economics and culture—Luxemburg, Kramer and Wolfe traveled to New York in December for an interview with the World Jewish Congress. They were then selected as finalists to pitch their ideas to the judging panel at an official event at Manhattan's WeWork Bryant Park in February.
The live pitch competition was attended by more than 100 young professionals and included opening remarks by the Consul General of Israel in New York, Ambassador Ido Aharoni.
"None of us had ever done anything like it before," said Luxemburg, an international relations major and president of Connecticut College Hillel. "There were a lot of prominent people from the greater New York Jewish community, and they came up to us afterward and were asking lots of great questions. We were even invited back to the consulate afterward.
The contestants' ideas were judged on innovation, feasibility, potential impact and relevancy to current Jewish issues.
"These three students showed exceptional initiative and independence in designing their proposal and in following the process through to its end over the course of several months," said Rabbi Susan Schein, director of the Zachs Hillel House and College chaplain.
"They were so committed that they traveled through a snowstorm to get to the final pitch presentation in New York City."
Each of the four finalists—Connecticut College, New York University Law School, Stony Brook College and Binghamton University—was awarded $2,500. The winning group, from Baruch College, received $5,000.
With the grant, the students have invited Bassem Eid, a Palestinian human rights activist and NGO director, and Erez Zadok, an Israeli-Jewish fund manager for Aviv Peace-Impact to campus to speak. The event, "Palestinians & Israelis: Building Economic Pathways to Peace," is planned for 5 p.m. on March 30 in Blaustein Humanities Center Room 210. A small dinner after the event will give students an opportunity for more informal conversation with invited speakers.
"Economic interdependence and global trade creates unique opportunities for cooperation," said Luxemburg. "By looking at this issue through an economic lens, we hope people will leave the event with hope for what can be achieved in the region."
---
March 10, 2016