Students gathered to watch the first Presidential debate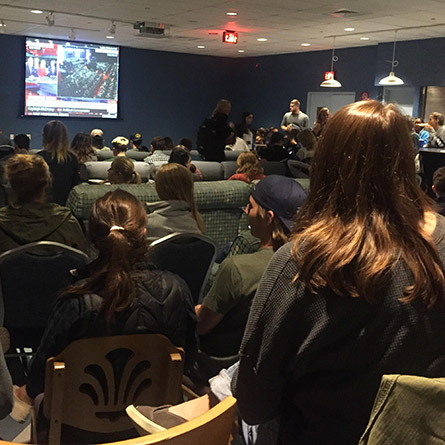 The first Presidential debate between Hillary Clinton and Donald Trump took place Monday night, and more than 100 Connecticut College students watched it at the College Center at Crozier-Williams.
The Day newspaper featured the debate watch party, calling it an opportunity for civility and engagement.
"It was very respectful and tranquil," said Jack Elsas '18, a government and economics double major, of the event. "The turnout last night was great and I am looking forward to discussions regarding the 2016 race."
The event was sponsored by the Office of Student Engagement and New Student Programs and three campus clubs: The Connecticut College Republicans and Conservatives Club, Connecticut College Democrats, and the College's chapter of the Roosevelt Institute. The debates were also aired at Unity House, the LGBTQIA Center and the Womxn's Center.
Students told The Day the economy—including student debt and securing jobs after college—is one issue they are watching closely in the debates.
"I think wealth and inequality is one of the greatest problems we are facing as a country, and both candidates need to address that to be able to be president of the United States," said Enzo Cerrutti '18, an American studies major.
On Wednesday, a follow-up discussion will be held for those looking to analyze more closely each candidate's debate performance. Professor of Government MaryAnne Borrelli and Barbara Zaccheo Kohn '72 Professor of History Catherine Stock will lead "After the Talk, After the Spin: Who Won and Who Lost the First Presidential Debate?" at 6 p.m. at Harris Refectory's 1973 Room.
---
September 27, 2016