Students' hip-hop song wins third prize in national sickle cell disease awareness challenge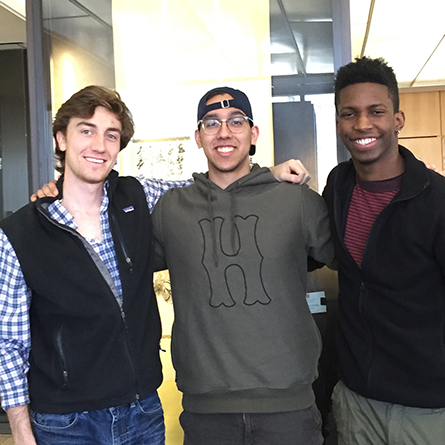 A team of Connecticut College students has won third place in a National Heart, Lung, and Blood Institute challenge to raise awareness for sickle cell disease.
The team, comprised of Joseph P. Donohue '16 (team captain), Francisco Santana '18 and Jermaine Doris '19, won $3,000 for the hip-hop song they produced, "Blood Red Crescent Moon." (Scroll down to listen.)
The "Novel, Innovative Tools to Increase Public Awareness and Knowledge of Sickle Cell Disease Undergraduate Challenge" was designed to give college students across the country the opportunity to develop creative new strategies to raise awareness about sickle cell disease, a common genetic blood disorder.
"Blood Red Crescent Moon" educates and informs broad and diverse audiences about sickle cell disease by addressing its non-contagious nature, the genetic basis of the disease, the racial misconceptions surrounding it, and how the symptoms affect individuals' everyday lives.
Professor of Biology Martha Grossel mentored Donohue, Santana and Doris through the project. Grossel specializes in molecular biology, cell biology and cell cycle regulation, and her research focuses on understanding what causes the unchecked cellular division that is associated with cancer.
---
June 1, 2016