The Associated Press spotlights Shain Library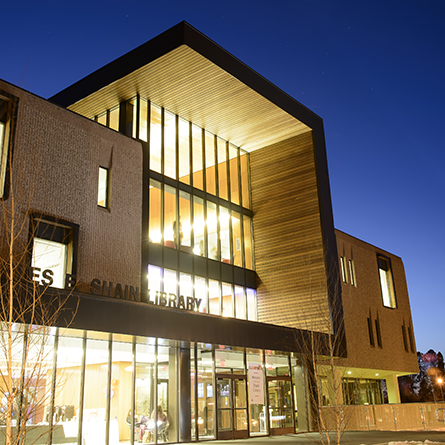 College libraries around the country are shape shifting.
"There really has been a complete shift in the idea of what a library is doing on a campus, a shift from a concept of a place for preserving knowledge to a space for creation and collaboration," Katherine Bergeron, president of Connecticut College, told The Associated Press.
The AP interviewed President Bergeron for an Aug. 19 story about college libraries in the digital age. According to The AP, "hundreds of schools, from Ivy League universities to community colleges, have remade their libraries as colorful hubs of college life."
Photos of the newly renovated Charles E. Shain Library were among those featured to show how libraries have transformed from repositories for books to more comfortable social spaces of "creation and collaboration," as President Bergeron said.
Shain Library was built in 1976 with small windows to help protect materials from sunlight. Kurt Vonnegut dubbed it "The Noodle Factory" during his speech at the building's 1976 dedication. It was, as The AP's photos reveal, renovated to emphasize natural light and to become a communal space.
Officially reopened March 23, 2015, Shain provides the following features:
The Technology Commons, which includes two gifts from Diane Y. Williams '59: A Christie MicroTile Visualization Wall and a bank of high-performance workstations. The Visualization Wall is the first of its kind among New England liberal arts colleges and allows students and faculty to view projects on a large, high-quality "digital canvas." Nearby, an area with high-performance, dual-monitor workstations are able to run the most demanding software applications.
The Digital Scholarship and Curriculum Center, which uses advanced instructional technology tools to help faculty develop innovative teaching methodologies and help students produce quality multimedia projects.
The Academic Resource Center (ARC), which offers programming that supports academic excellence to help all students reach their highest scholastic potential. ARC also houses Student Accessibility Services and provides space for tutors and the career services program to work with students.
Ten reservable collaboration rooms, each outfitted with whiteboard walls and LCD panels on which students can share laptop displays.
Two new reading rooms on the second and third floors, which each hold 32 individual study spaces.
A bigger Blue Camel Café, the popular coffee and snack shop, which is located in a prominent first-floor spot and doubles as a 24-hour study space.
A much more robust wireless network infrastructure to handle the ever-increasing digital load.
Electrical outlets near every seat in the building to keep laptops, phones and other devices charged.
A living room-style area just inside the front doors that will be ideal for receptions and other events tied to the Chu Room and serve as casual study space at other times.
An expansive plaza that replaced what was commonly known as the "moat" in front of the building.
---
August 19, 2016