The College's new twist on the classic musical 'Carousel'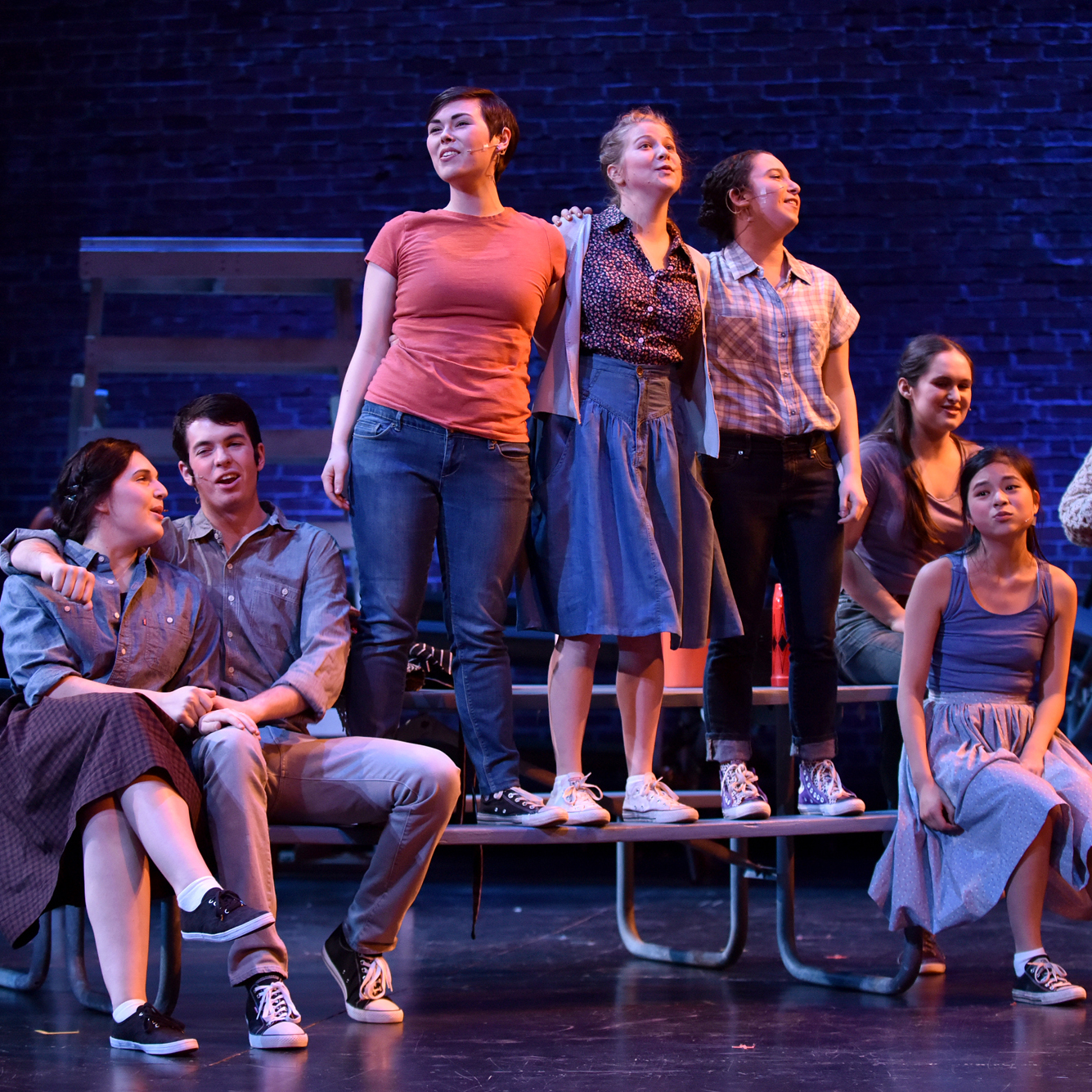 Connecticut College's Dance, Theater, and Music departments recently collaborated to produce a new take on the musical "Carousel." The classical musical, an adaptation of a Hungarian play by Ferenc Molnar, was staged in Palmer Auditorium on Connecticut College's campus, March 4-6, drawing more than 1,000 patrons.
Although the original production of "Carousel" was set in a small, seaside whaling village in Maine during the 20th century, director David Jaffe '77, associate professor and chair of the Theater Department, modified the setting to fit New London in the early 1950's. The set designer, adjunct assistant professor Edward Morris, utilized props from New London's Ocean Beach Park, a 50-acre park that features various attractions, such as mini-golf, an arcade and a boardwalk.
The set included 22 blue picnic benches that transformed the stage in Palmer Auditorium back to Ocean Beach Park approximately 65 years ago. Jaffe explained that the blue benches "formed our set and our world."
"The original setting of an amusement park and a carousel fits very nicely into Ocean Beach Park," Jaffe said. It takes audiences back to "what it was in its heyday, and what it remains to a certain extent."
The permission to alter the story came from Ted Chapin '72, president and chief creative officer of Rodgers & Hammerstein. The former College trustee is a veteran theater producer and his company owns the rights to over 100 musicals, including "Carousel." To kick off the College's production, Chapin took part in a panel discussion on the day of the premiere on campus that drew more than 150 attendees.
Connecticut College student, Summer Irving '16, who was part of the costume crew, underscored the importance of the modernized setting.
"As the show was chosen to be set in modern times, the costumes, props and set, along with the dance and music, lent themselves to a more accessible audience, and the somewhat provocative nature of this play will spark great and much-needed conversations across campus," said Irving, a theater major.
Irving particularly wanted the performance to spark conversations about domestic abuse. In addition to giving the musical a new setting, the producers also gave it a new framework. The main characters Billy Bigelow and Julie Jordan have a grown daughter, Louise, who is seeking to make sense of her parent's relationship. Leah Shapiro '16, who plays the Starkeeper/Dr. Seldon in the production, said that the troubled relationship between Billy and Julie raised the issue of domestic abuse.
"As theater-makers, our question became, 'How can we put this musical on with problematic concepts, like domestic abuse, without endorsing them,'" said Shapiro, a human development and theater major.
"We wanted to make our audiences challenge their notions about the 'norm' of domestic abuse in our society; and at the same time shed light on an issue that still occurs."
Other College faculty members involved in the production included: David Dorfman, professor of dance, who handled the original choreography; music direction by Mark Seto, assistant professor of music; vocal direction by Wendy Moy, assistant director of music; and costume design by Sabrina Notarfrancisco, assistant professor of theater.
- Amy Levenson '16
---
March 7, 2016