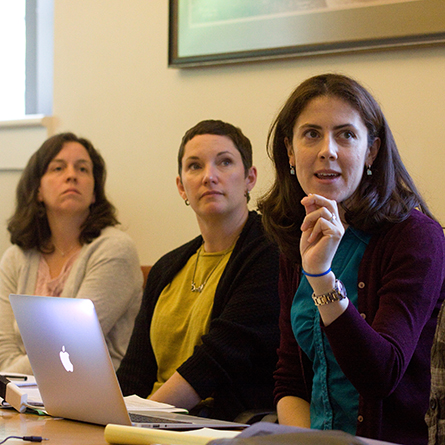 Connecticut College is setting the standards in terms of undergraduate teaching, according to an article published by The New York Times.
The article, "Teaching Professors to Become Better Teachers," explores trends in faculty development and efforts by colleges and universities to improve the quality of undergraduate teaching. At Connecticut College, faculty learn to better motivate and engage their students through the Joy Shechtman Mankoff Center for Teaching & Learning (CTL).
"The best teachers are constantly working on their teaching: assessing, refining, improving," said Michael Reder '86, director of the center. "The CTL gives Connecticut College's faculty a forum to exchange ideas, learn new skills and evaluate their success in the classroom."
The CTL, which was founded in 1998, offers programming and workshops on everything from designing effective courses to managing classroom discussions to teaching with cutting-edge technology. On average, approximately 80 percent of the College's professors participate in at least one CTL-sponsored event a year.
"I don't think you're doing your job as a college professor these days if you're not involved in these kinds of activities," Associate Professor of Psychology Ruth Grahn told the Times.
Dean of the Faculty Abigail Van Slyck said that when she arrived at Connecticut College, having previously held a tenure-track position as professor in architectural history at a major research university in the Southwest, Reder invited her to attend some of his teaching workshops. While she was initially skeptical, she told the Times that through the CTL, she gained a broader understanding of what it meant to be a good teacher.
"It changed my life," she said.
---
June 23, 2016