Three honored with Dr. Martin Luther King Jr. Service Awards
Connecticut College recently honored three members of the campus community with the 2016 Dr. Martin Luther King Jr. Service Awards, conferred each year on those who exemplify and uphold the legacy of Dr. King's work.
The awards were presented at a Feb. 1 Black History Month kickoff event, "50 Years of Black Power." The event featured a keynote speech, "It Was All A Dream: The Intersection of Martin L. King's Politics and Millennial Activism," by Jeffrey Ogbar, professor of history at the University of Connecticut, as well as performances by Jermaine Doris '19 and Writer's Block Ink of New London.
The 2016 honorees are:
Faculty Award: Mohamed A. Diagne '97, Oakes Ames Associate Professor of Physics and Muslim Community Program Leader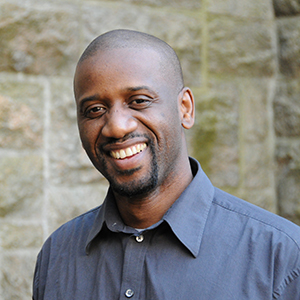 In the fall, Diagne was nominated by students to serve as the College's inaugural Muslim Community Program Leader. In that role, he acts as a mentor to and provides support for Muslim students, and works with students to plan community events. He has been praised for his leadership on campus issues of equity and inclusion, his thoughtful approach to problem solving, and his ability to build community and consensus.
"Mohamed came to Connecticut College as an international student from Senegal. Many of our Muslim students are international students, and they really relate to Mohamed in this way," said Dean of Religious and Spiritual Life Claudia Highbaugh. "He is most deserving of this award, for seeing his responsibility in the community as not only that of a pedagogical leader, but also as a community leader focused on supporting students outside of the classroom."
Diagne has been a professor at the College since 2009. In 2014, he was awarded a Fulbright study/research grant to travel to the Université Gaston Berger in his native Senegal to teach and conduct research on photovoltaic technology, or systems that use cells to convert solar radiation into electricity.
Staff Award: Jennifer Nival, assistant director of Unity House and Women's Center adviser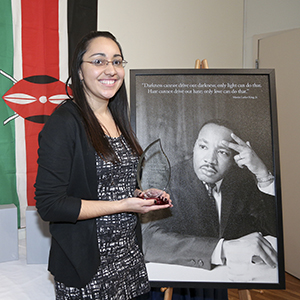 Nival is a dedicated member of the College community who serves as an invaluable resource for students on a wide variety of issues related to social justice and equity. She creates campus programming to enhance discussion on these important issues, provides guidance to student leaders, and serves as a source of support for students of color and first-generation college students.
Since joining the Unity House staff in 2014, she has helped grow the College's mentorship programs and enhanced programming for cultural celebrations, including Latino Heritage Month, Native American Heritage Month, Black History Month and Asian American Heritage Month. As the Women's Center adviser, Nival has helped students take a more holistic approach to analyzing women's issues and created more robust programming, including bringing to campus Treva Lindsey, a renowned scholar in black feminist theory and an assistant professor in the Department of Women's, Gender and Sexuality Studies at The Ohio State University.
"Through her work, Jenn has shown an incredible commitment to social justice, equity and diversity, supporting students of color and other marginalized students at Conn," wrote Fara Rodriguez '16 and Meira Klatzker '16 in a letter nominating Nival for the award.
Student Award: Chakena Sims '16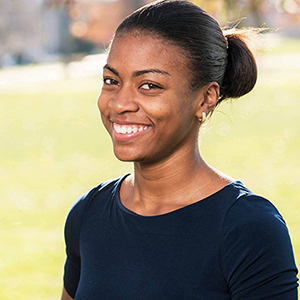 Sims is a talented community organizer who has made a significant impact on campus, as well as in the greater New London community and her home community of Chicago, Illinois.
A Posse scholar and activist with a focus on issues of social justice, Sims has been a champion of voter registration, serving as a volunteer coordinator and community organizer for Chicago Votes and organizing a voter registration drive on campus that was attended by Connecticut Secretary of State Denise Merrill. She has also served as a help center assistant at the New London Homeless Hospitality Center and as a mentor to New London middle school students through the College's Recreational & Educational Achievement for Children after-school program. This fall, Sims organized more than a hundred students in a demonstration to protest the daily injustices faced by students of color.
"There is no one more fit for this accolade than this powerful woman of color who demands respect through her actions and inspires by her presence on this campus," wrote Hilary Noble '16 in a letter nominating Sims for the award. "Chakena Sims exemplifies the leadership qualities of MLK."
Sims, who in December graduated one semester early, majored in history and was a scholar in the College's Holleran Center for Community Action and Public Policy.
---
February 4, 2016