'Women in Science' brings local high school students to campus for day of learning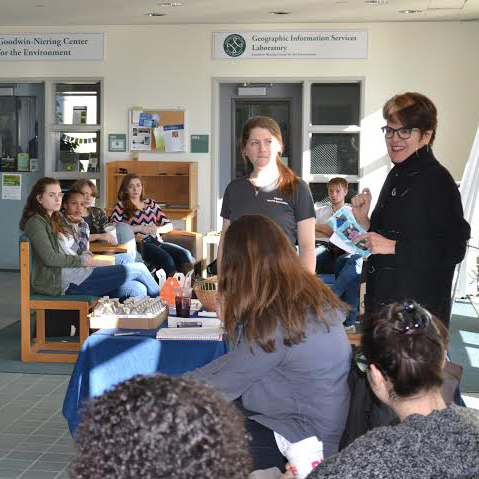 When Rebecca Napolitano '15 graduated last spring, she was off to Princeton University to pursue a graduate degree in civil engineering. But as sure as her plans were, the fate of "Women in Science"—an award-winning program she founded last year to encourage high school-aged girls in Connecticut to participate in science programs—was far less certain.
Enter Jessica Napolitano '17, Rebecca's sister—and the new leader of "Women in Science."
She and more than a dozen other Connecticut College students recently hosted a group of high school girls from across the state, leading panel discussions, guiding lab tours and running friendly competitions around the campus. Events focused on four main academic areas: mathematics, computer science, physics and neuroscience.
"Working with these girls was amazing. To see their enthusiasm for science and math, and to see their confidence, was extremely encouraging," said the younger Napolitano, a mathematics and computer science major. "They took pride in their ability to problem-solve; they were all eager to learn and fun to work with."
The all-day event kicked off with a welcome breakfast hosted by President Katherine Bergeron. The high school girls then took part in competitions, putting their problem-solving and STEM knowledge to the test. After lunch, the girls took tours of the robotics lab, the organic chemistry lab and the College's particle accelerator. They also had a tour of the observatory guided by astrophysics professor Leslie Brown.
The day wrapped up with a panel discussion, during which Connecticut College students shared their STEM experiences with the younger students and answered their questions.
"As a high school girl pursuing a STEM-related field, it can be very intimidating," Napolitano said. "I think this event provides a support network for these high school girls. I think it will add to their confidence and, hopefully, they will realize they really do belong in these fields."
Napolitano, who will intern at IBM this summer, said she hopes to host the event again next year, and she has already begun looking for ways keep the program thriving after she graduates.
Last year, Rebecca Napolitano was honored with the Connecticut Technology Council Women of Innovation Award by the Connecticut Computer Science Teachers Association for founding the program. She also received a citation from the state of Connecticut, naming her a "Young Innovator" in the sciences.
---
March 21, 2016