Women's Soccer headed to NCAA Championship tournament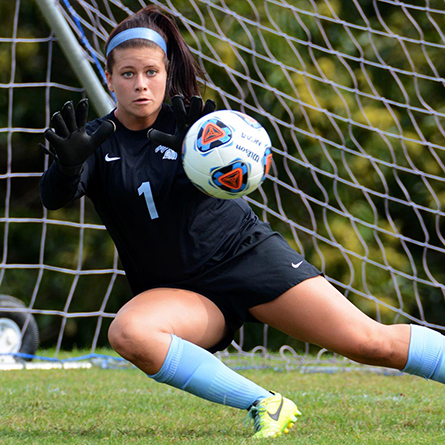 For the second time in three years, the Connecticut College women's soccer team has qualified for the NCAA Championship.
The Camels (10-5-1) will take on the University of Scranton (17-1-1) in the opening round of action at McDaniel University Saturday.
"We have been training and waiting all week for hopeful news and are delighted to be a part of the field of 64," Head Women's Soccer Coach Norm Riker said. "We've had a really good year and are thrilled to have the opportunity to continue our season."
Connecticut College put together an impressive resume for the NCAA tournament selection committee. The team boasts a strong strength of schedule and notched key victories against Middlebury and Eastern Connecticut. Four of the team's five losses were against teams ranked in the top five in the region.
"It's just amazing to qualify and it just goes to show how this team has put in a lot of hard work all season long and persevered through a tough schedule," said Erin O'Brien-Powers '20, a defender from Portland, Oregon. "With this chance to play one more game, we can really show that we belong in the tournament."
The Camels program has been on the rise. The team captured the program's first New England Small College Athletic Conference Championship in 2014 and advanced into the second round of the NCAA Championship. The team finished the year with a College record of 16 wins.
Leading the Camels offense this year is forward Alex Baltazar '19, who ranks fourth in the NESCAC with nine goals. Midfielder Michelle Medina '18, a 2016 Arthur Ashe Jr. Sports Scholar, has dished out eight assists to rank second in the NESCAC, while keeper Bryanna Montalvo '18 has posted five shutouts to rank fourth in the conference.
Senior captain Amanda Proulx anchors an improved Camel defense that has trimmed its goals against average by 0.43 from a year ago. Classmate and fellow senior Katelyn Murray has also been a leader for the program.
The Camels will take on the Scranton Royals at 1:30 p.m. on Saturday, Nov. 12, at McDaniel University's Green Terror Soccer Complex in Westminster, Maryland. The winners of Saturday's matchups will square off in a second-round match on Sunday at McDaniel.
---
November 8, 2016