Women's water polo wins DIII championship, Millward named MVP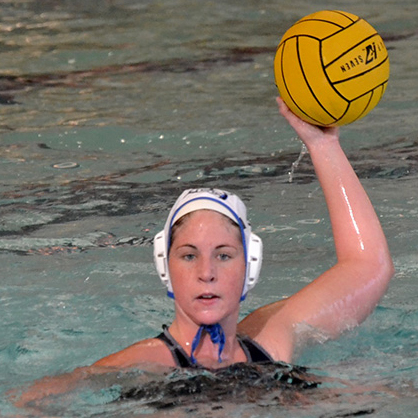 The Connecticut College women's water polo team captured their fourth consecutive Collegiate Water Polo Association (CWPA) Division III championship April 17, defeating Washington & Jefferson College 13-9 at the College's Jane Caldwell Lott '36 Natatorium.
The Camels were led by Sam Pierce '16, who scored five goals, and a four-goal effort from Kelsey Millward '16. Sarah Sovia '17 backstopped the victory with eight saves.
"We lost to Washington & Jefferson earlier this season. People were counting us out," said head coach Matt Anderson. "I challenged this team to start a legacy and they did a wonderful job."
Prior to the tournament, Millward was named Most Valuable Player of the College Water Polo Association Division III Conference. The senior All-American led the Camels with 67 goals and 16 assists.
Captain Abbey Wrobleski '16, Brianna Harrity '17, and April Anderson '18 were also honored with CPWA second team honors.

With the tournament title, the 15-6 Camels advanced to the CWPA Championships April 29-May 1 at Harvard University.
---
April 18, 2016