Dana Mortenson '97 is leading the effort to prepare a new generation for global citizenship
Dana (Curran) Mortenson '97 was in her second year of graduate school at Columbia University when terrorists attacked the World Trade Center on Sept. 11, 2001.
Mortenson had enrolled at Columbia to study international affairs, with the goal of eventually working in international development. Within the first few weeks, she met and befriended fellow grad student Madiha Murshed, a Bangladeshi citizen who had attended high school in Singapore and college in the U.S.
"In the weeks after 9/11, I saw how the xenophobic backlash was impacting Muslims across the country, and Madiha specifically," Mortenson said. "It was the first time I was in such close proximity to this kind of treatment of someone I loved."
The two women were dismayed by the lack of global awareness, cultural understanding and empathy that they saw around them.
"I had been focused on international development policy, but looking at my work through a post-9/11 lens, it felt like it was too late in the process. Suddenly, I was more interested in how to build global competencies in what was quickly becoming an interconnected world—to be sure the people around the table making policy decisions were influenced by an informed, engaged, globally competent citizenry," Mortenson said.
Both women had parents who were teachers, and both saw education as the natural platform to prepare a new generation for global citizenship. They wanted kids to gain an in-depth and multifaceted understanding of international issues, learn to appreciate and interact with people from different cultures, and develop the skills to act on issues of global significance. And, more than anything, they wanted this to become the normalized, mainstream experience for all students.
So with "great counsel from a network of experts, a healthy dose of luck and a bit of naiveté," Mortenson and Murshed founded World Savvy, a non-profit organization dedicated to integrating global competence into teaching and learning in K-12 education.
They define a globally competent learner as someone with the skills, disposition and capacity to thrive in a diverse, interconnected and changing world. This includes skills like critical and creative thinking; it's comprised of values like humility and empathy; and characterized by behaviors like making informed decisions that integrate multiple perspectives and seeking solutions for the collective good. In the classroom, it also implies an approach to teaching that leverages diversity as an asset, and helps students deeply engage in relevant content that helps them make sense of the world around them.
World Savvy is now a leading provider of global competence education in the U.S., with offices in San Francisco, New York and Minneapolis-St. Paul. The organization works with schools and districts nationally at three levels—student engagement, teacher capacity, and leadership development—to embed global competence into teaching, learning and culture.
Through their flagship program for youth, World Savvy Classrooms, middle and high school students explore complex global themes and work in teams to develop projects through which they propose solutions to the challenges they've researched, in either their local or global communities. The program helps students find voice and choice in their education, and encourages them to build their own agency as change-makers. One group of students, for example, studied the issue of human trafficking and developed a targeted awareness campaign to help the public understand the statistics and risk factors. Another student researched silica sand mining in the Midwest and made a documentary film exploring its implications for the environment and communities.
"After the project, I feel like I can do more," said Anna, a 9th-grade student at Roosevelt High School in Minneapolis, who wrote a children's book about the plight of bees and their importance to world ecosystems. "I saw how I can really help in global problems and how I can educate others on how they can help, too."
The goal, Mortenson said, is not to have one-off cultural celebrations or single, isolated lessons on diversity and world cultures, but rather to embed a global lens across the curriculum and into the culture of schools.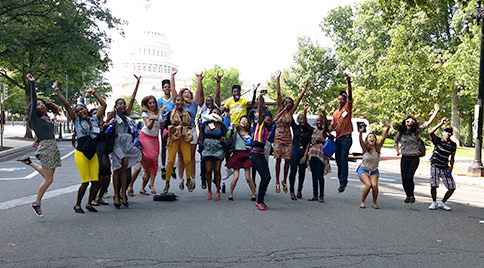 This interdisciplinary approach has roots at Connecticut College. "At Conn, you don't just get a global perspective in subject-specific disciplines. This isn't history or social studies—this is everything," Mortenson said. "My government and international relations classes at Conn were the first time in an academic setting that I was doing the kind of critical analysis that I hope all young people learn to do, in school and beyond."
Mortenson serves as World Savvy's executive director and oversees 25 full- and part-time staff and consultants. (Murshed left the organization after a few years and now runs two schools in Bangaldesh). As World Savvy continues to expand its reach—it has served more than 3,000 teachers and 405,000 youth and has set a goal to reach more than 1.4 million students by 2020—Mortenson has been steadily building a larger fundraising base. Initially relying on small donations (some of the very first donors were Mortenson's classmates at Conn), World Savvy is now partnering with large, national funders to build capacity.
Last year, World Savvy launched a first-of-its-kind master's level global competence certificate program for teachers, developed in collaboration with Teachers College, Columbia University and Asia Society. The organization is also working on educational policy initiatives.
"We look holistically at how we can create more engaging learning experiences for all young people that really prepare them to thrive in the world, as it is now and as it changes," said Mortenson.
As World Savvy continues to grow, Mortenson has been focused on strategic planning and the organization's long-term vision for systemic impact in K-12 education. She is working to set up World Savvy to be sustainable and influential well into the future.
"As I look around the world 14 years after founding World Savvy, I see a greater need for these conversations and this kind of reform than ever before," Mortenson said. "Diversity is our common future. I'd like our organization to help position us all to leverage that as an asset, and build learning environments that prepare all kids for the future, equitably."